We are continuing our interview series with API Contributing Bloggers with Martha Wood.  Read on to hear more about her thoughts regarding weaning, co-parenting, and how she peacefully deals with breastfeeding criticism.
Tell us about your family.
I am a single mom, co-parenting with my daughter's father. She is 2.5. She is my only child. We live in Austin, Tx. We are a biracial family. I am white and my daughter's father is black. I grew up in Abilene, Tx. Annika's dad is Nigerian born and immigrated to the United States when he was 8 years old. He grew up in Ann Arbor, MI. Annika's dad and I were never married. We met in Detroit, MI, while attending Wayne State University. We worked together at the school newspaper, The South End. I was the news editor and he was the graphic designer.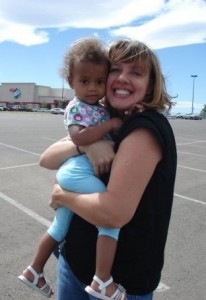 What led you to Attachment Parenting?
I was drawn to attachment parenting through a series of random events and a background of being raised by a mother who was involved with La Leche League. I was nursed until I was 3, and slept with my parents until I was 4. I would not characterize my parents as "AP" but there were some similarities in their early parenting style, such as extended breastfeeding and co-sleeping.
I began being interested in the AP world when a friend gave me a copy of The Baby Book by William Sears. I liked what he had to say about co-sleeping, breastfeeding, babywearing and positive discipline. During my pregnancy I met a neighbor of my mom's who had given birth to her first child just six months before me. She told me about the local API meetings at the library and I began attending mostly because I wanted to get out of the house and I thought I would meet some other moms to hang out with. After the first meeting I was hooked! I loved the speaker, although, I don't even remember who it was. I was blown away by all the wonderful and alternative parenting methods I had discovered.
When I was pregnant I knew that I wanted to breastfeed and use a sling. I knew that I wanted to avoid spanking as a method of discipline. I knew that I wanted to have a better and closer relationship with my daughter than I had with my own parents. After this meeting, I knew that I had found the answers to my questions. Luckily for me, the first meeting I attended was when my daughter was about four weeks old.
I had begun co-sleeping about two weeks after she was born, after realizing how frustrating and tiring it was getting up to nurse twice a night. (I was lucky, in that my daughter slept really well as a newborn, believe me, that changed after a few months. 🙂 )
How do you deal with friends/family/strangers who don't understand or who disagree with AP practices?
My parents are very supportive about the way I parent. My daughter's father and I have disagreed on some of it, but overall he is a really good dad and often more patient than I am! He wishes that I had weaned her at a year, and doesn't like the co-sleeping, but he hasn't fought me on it.
It depends on the situation whether I just smile and nod, or try to educate. If I think someone is open to hearing about my views, I definitely try to educate and give supporting information about my parenting practices.
My daughter's paternal grandmother has been very vocal about disagreeing with my parenting style, and for the sake of familial harmony, I usually don't say anything. They live in another state though, so it has not been a real issue. When she was 18 months, and I nursed my daughter in front of her grandmother, she commented, "Are you STILL nursing????" I just said yes and looked away. Then her sister, who was visiting from Nigeria, leaned over and whispered that she had nursed her babies until they were 2.
After that, I just avoided nursing Annika in front of her grandmother. My mother told me that when I was that age, if she needed to nurse me, she would just take me in the other room. So that's what I did on our next visit. I am normally not the type of person to avoid confrontation, but in this case, I felt like it was the easiest and most harmonious route.
Have you ever had an affirming moment in your AP journey?
So far I haven't seen a lot of payoff. But there have been some brief moments. My daughter is unusually compassionate with other children. I've been told by other parents that they are surprised by how sweet she is with other children. Once she was staying with a small group of children at a Buddhist meeting that we attend sometimes. When one of the other babies was crying for her mom, I was told that Annika went over to her and put her arm around her and told her that it would be okay. (She's 2.)
She also loves to "wear" her babies, and she nurses them.
What does 2011 hold for your family? What goals do you have for your kids/ family in the coming year?
2011 holds for us, more time away from mama, and possibly weaning. I always wanted to let Annika wean on her own, but I am really ready for it. I am thinking that we will give up nursing around her third birthday in May. We have started talking about it and are down to three times a day. We are also forming a Montessori co-op with a group of AP mamas from our playgroups. I am looking forward to keeping her world small for a few more years while giving both of us a little more freedom.
When to stop breastfeeding is such a hard choice to make.  What factors are you considering in your decision?  How are you going about weaning?
The idea of making any final decision on when to stop breastfeeding stresses me out, so I haven't made any hard and fast rules about when we will stop. I keep thinking that I'd like to be done by the time she's 3 (this May). Sometimes I tell myself that I will definitely do that, (I may have even told you that in my last e-mail, now I don't remember) and sometimes I start to think maybe I will just keep nursing her for a while longer if she really needs it.
Another AP mom here in Austin, gave me some advice. You may know her — or of her. Her name is Camille North (she edits one of the API newsletters). She said that when her youngest was around 2, she was so ready to be done. He was her third child and she had been nursing pretty much solidly for several years. She began *offering* the breast when he was busy with other things.
I started doing that recently and it really helps a lot! It gives me the feeling that I have some control over the situation, which I think breastfeeding moms often lack, therefore making it more frustrating.
Sometimes she even says no, which I think it huge for her, because it is giving her the feeling that it is available all the time, so she can afford to turn it down.
Basically I think it gives both of us a feeling of control. It releases her overwhelming desire from it, by worrying that it won't be available if I do the opposite and limit her based on my needs.
It helps a lot. And she is recently down to nursing two or sometimes three times a day. And the best part, she doesn't ask for it constantly like she was before, so I don't feel like a jerk for saying no, or feeling resentful sitting there with my 2.5 year-old's long legs dangling off my lap and wondering why she can't just eat some cheese. LOL
Actually, I only had to do the offering thing for a couple of months and now she only asks to nurse once during the day, most of the time, so I almost always say yes. We also bargain. Sometimes, we'll agree that she can nurse, but only for five minutes. Sometimes, she'll even say it, "Mama, can I nurse for five minutes?" I think that's her way of saying she just wants a little and it's really important to her.
I guess, basically, these are the steps I'm taking toward weaning. Trying to give her control over it without feeling like I'm trapped. I have read How Weaning Happens, by Diane Bengson, a couple of times. I like the idea presented in the book that, weaning, is just like any other developmental stage. Just like we help our kids learn to walk and talk, we help our kids learn how to stop nursing. We don't expect them to just wake up one day and be walking. So we can't expect that they will just up and wean all by themselves. Some children do that. But I think that most of the time, moms prod them in that direction, even if they don't realize they are doing it.
Can you talk some more about the Montessori co-op?  That sounds like a beautiful thing.  Is it an informal kind of thing?  Do you anticipate sending Annika to a Montessori school?  What about that kind of learning style appeals to you?
The Montessori co-op is very new and relatively informal. I foresee that we will stick with Montessori for pre-school. What I like about Montessori is that the style is very much child-led, but it's not a free for all. I like that the stages of learning are developmentally appropriate. The theory behind it is that you teach observation skills, and engage the children in their personal interests. Then they learn because they know how, and they are intrigued by the topic. I think learning is, in itself, a skill.
Beyond that, I don't know. The public school situation is very tenuous right now here in Austin. They've just announced the potential closing of several schools. Aside from that, the options here in Austin vary greatly. There are a wide array of private schools, with all sorts of methodology. The homeschooling network is pretty big from what I hear. I recently joined the Yahoo group, but I haven't participated much at all. And the public school system has some dual language programs, with some new ones starting up in the next couple of years.
I think we will just keep examining our options and then see what fits best with her learning style.
Thank you Martha! Everyone please stop by her blog to learn more about her and her attachment parenting journey!