I wrote here about the struggles that arise when your parents disagree with your parenting.  The feedback was overwhelming and I have decided to share my own story of going against the grain and my path to attachment parenting.  I do this in the hopes that you will take a few minutes to share your stories about overcoming prejudice, digging deep to make wise decisions, and sometimes defending those decisions.  In a world where many moms and dads (including me) live far away from most of their extended family, in a world where attachment parenting seems radical, stories and advice from people like you are what inspired me, encouraged me, and ultimately kept me from pulling all my hair out.  Let's collect stories and be a tribe of support and encouragement to one another.
I am a researcher, a soul searcher, and a believer in the power of intuition.  My husband teases me that my motto is "If you don't know, look it up until you do know."  So when I found out I was pregnant, I took one of the Attachment Parenting principles seriously: Become emotionally and physically prepared for pregnancy and birth. Research available options for healthcare providers and birthing environments, and become informed about routine newborn care.
I immediately started doing research, listening to my gut, figuring things out.  There are so many decisions to be made when you are expecting!  Triple screen or no triple screen?  Ultrasound or no ultrasound?  Hospital delivery or home delivery?  How do I feel about epidurals?  How long do I want to labor at home?  What if I go past 40 weeks?  On and on and on with the questions.
Every woman has to make these decisions for herself.  I made these decisions based on research and intuition.  A lot of these decisions were the exact opposite of what everyone in my family wanted me to decide.  A lot of decisions were scary.  Maybe my family is just nuts, but I think everyone's family is a little nuts.  I wanted my family (and close friends) to agree with me.  I wanted their admiration and respect.  I wanted them to be on board.  But in the end I just had to stop listening to everyone and start listening to myself.  It was just draining having to defend myself and explain over and over.  But I wanted to include my family as much as I could even though they thought I was crazy.
Maybe my process would have been easier if I had more support, if I had been raised in an environment that celebrated birth.  But I didn't have that kind of support.
When I found out I was pregnant I called my mom first.  My mother said: "Have you scheduled your C-section yet?" No joke.
When I decided that I didn't want an epidural my mom said: "Well you just have such low pain tolerance, and really, what's the point to going through all that pain if you could just have the epidural and relax and watch TV?"  (My point is not really about the epidural, I am not violently opposed to epidurals.  I just think that when your daughter tells you she's been doing all this research and has decided that an epidural is not the right choice for her, you should respond with support and encouragement, not try to talk her out of it and undermine her determination.)
When I chose to deliver with a midwife my family thought I was putting my unborn child in grave danger.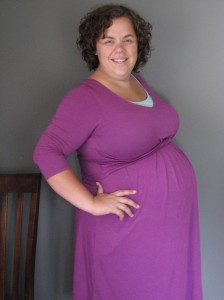 I struggled, you guys.  I struggled with every little decision that I made.  And that was before my little man was even here!  In my next post I'm going to talk about my labor and delivery, and the first couple days of Solomon's life.  But for now can we just talk about pregnancy and going against the grain?
I try to think about my kids growing up and having kids.  What will be the norm to them?  What new history am I writing for them?  And that encourages me.  You are writing a new history for the next generation.  What kind of history are you writing for them?  Were some of your decisions during pregnancy difficult to make?  Did you feel supported?  How did you deal with critics?  Do you come from an Attachment Parenting kind of family? We have a lot of wisdom here in the API Speaks readership.  Share your wisdom with us!
Alissa writes at A New History where she blogs about the challenge of authentic living with her husband, Levi and her one year old son, Solomon.