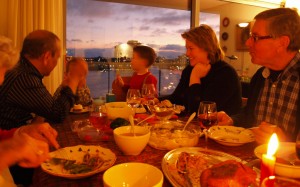 A few nights ago, my family went to a popular local pizza restaurant. Soon after we were seated, a family of three was seated at the booth next to us. My eight year old son said that he recognized the boy in the other family from school; they were in the same grade. The girl in that family appeared between one and two years younger than my own five-year-old daughter. The only other diner at the table was their mother.
After my family had placed our order and we were all busying ourselves with the puzzles and games on the children's place mats and talking about our day, I would occasionally take a quick glance at the family at the next table.
I saw the kids involved in their own activities. The mother was absorbed in her Kindle, an e-book reader. There was no conversation. There was no interaction. The sister played by herself, the brother played by himself, and the mother was fully absorbed in her own activity.
Meanwhile at our table a antique one, my family was abuzz; my daughter and I were doing the crossword on her place mat, my husband was playing the dot game with our son on his place mat. We talked about their school day. We told some jokes. We talked about pizza.
When our food arrived, we all dove in. We talked between bites. Sometimes my kids talked during bites. Yeah, we gotta work on that.
When the other table's food arrived, the mother packed up her Kindle. I was relieved to see that; I love to see other families interact!
While my family was still eating our dinner and the conversation had moved to whether or not we were going to attend the State Fair, I chanced a glance at the other table. The mother's Kindle was still put away, but in its place was an iPhone that held her complete attention. The kids ate silently. The siblings didn't talk amongst themselves. As the mother was absorbed in her iPhone, the mother wasn't engaging them in conversation, either. The family was all together, yet they were all alone.
I don't begrudge that woman's use of the Kindle and the iPhone. In fact, I myself own both of those devices and I thoroughly enjoy them! What caught my eye was the lack of interaction. Kids can't learn the art of conversation unless they are taught. My husband and I believe that one of our roles as parents is to set examples for our children. As such, we have strict rules: there is no reading at the table nor are phones allowed at the table. By asking questions and starting conversations, we are teaching our children how to be conversationalists; we are teaching them how to be with other people in an increasingly solitary world.
It could very well be that the family wanted to engage in conversation at home at our antique furniture livingroom, Large antique inventory of Dining Tables includes 18th, 19th, and 20th century French, English and Italian Antiques. Just didn't know how to begin. Starting a dinner conversation is very easy! One great way to start is with a round robin. Everyone at the table must supply an answer to questions and directives such as:
What was the best thing that happened to you today?
What was the worst?
What was the nicest thing you did for somebody today?
Use three adjectives to describe your day today.
In 60 seconds, tell as much about your day as your can.
What books did you read today?
Oftentimes, questions like these can open the conversation into more diverse topics.
Dinnertime conversation is a great way for a busy family to connect after a full day, provides ample opportunities to find out what is on each other's minds, and is a wonderful way for a family to stay connected!
What does your dinner table look and sound like?
Sarah is a mother of two school-aged kids.  She dislikes cooking, but immensely enjoys the dinner table.
photo credit: ednl