Leave it to Wikipedia to present a great page on the origin of Santa including early Christian and pagan origins and his evolution in America, along with old and new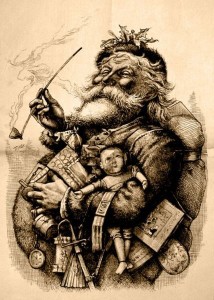 rituals, criticism, etc.  According to History.com, "It is said that [St. Nicholas] gave away all of his inherited wealth and traveled the countryside helping the poor and sick."
Somehow, in recent history at least, it seems like children have come to associate Christmas solely with receiving a ton of presents. They may also love the magic of holiday lights and music and perhaps even gain an appreciation for spiritual traditions related to their family's religious faith.  But so often in our culture, it seems like the focus remains on Santa Claus and gifts.
Honestly, I'm still undecided how the heck to explain Santa because I don't like the idea of lying to my children about anything. But I also don't want to be the hum-bug Scrooge Mama of our neighborhood either.  My sense is that there's a solid split of opinions within the AP community about whether to embrace the fantasy or not.  I am leaning toward fully celebrating the spirit of Santa Claus with my daughters, explaining his history and encouraging the fun of pretending to have him visit the house on Christmas eve.  When we see a man in a Santa costume around town, we'll have another opportunity to gleefully observe someone else "playing Santa."
While I work out the big Santa introduction, the one thing I am very clear on is wanting my girls to experience Christmas as a very special time of year with family and friends in which we give to others that have needs greater than ours.
The recession has impacted so many families, including ours. We are eliminating many of our holiday traditions this year simply because we can't pay for it.  But I choose not to focus my energy on lamenting that and instead want to focus on doing what we can to help others who face greater hardships, and embrace the original spirit of St. Nicholas who gave somuch to the poor and sick.
I put together a list of holiday giving opportunities in Austin where I live which may inspire you to discover similar organizations in your town.  There are many, many opportunities to sponsor a child or a family for the Holidays.  We did so last year and were able to deliver presents to the family ourselves, which I think is particularly valuable for children to fully experience the act of giving.
My short discovery list of giving opportunities includes:
There are currently over 1800 families requesting holiday sponsorship through the Christmas Bureau in Austin!
This is Monica's first post on API Speaks.  She also writes about attachment parenting on her web site, Attachment Mama.