Last year, all I felt like doing for Thanksgiving was resting and giving thanks. This year, I am antsy and ready to do stuff, holiday stuff. Our son just turned three and has been so much more aware of special occasions –his dad's birthday, Halloween, his birthday– that this is the year we can start explaining what Thanksgiving and Christmas are, start helping him to know there are traditions we'll participate in every year.Family traditions feel to me very much a part of creating a secure base, something we can expect to happen, that we can count on doing with the people we love.
I don't think I actually had that growing up. Though we got together with neighbors for potlucks and played in the snow outside, we didn't have much we did as a family. It was as if without the neighbors around we had no way to celebrate.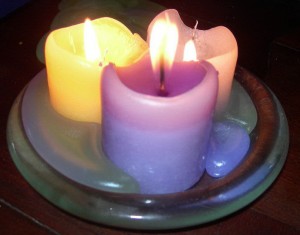 In Austin, Texas, there's almost never snow and so it doesn't even feel to me like the holiday season. And all those people from my childhood aren't around. While we have found people to potluck with here, it's not consistent, not anything that could be called a tradition. Consequently, every year around this time, I feel a little lonely. I don't like it. Our nuclear family of three is plenty on just about every day of the year. It should feel no less complete just because of the holidays.
What all of this has made me aware of is that we need our own traditions, specific to our immediate family, things we remember (fondly) with each other. How to create them, or find them? First, I went through all the local calendars to find holiday events around Austin. Most of them were more Christmas and winter related: parades, ice skating, tree lighting, and caroling. We'll add some to the calendar and see if any of them are fun enough to do again the next year. Maybe just trying new things each holiday can be one of our traditions.
Then I started thinking about what we might do. I realized we had more traditions than I realized. Of course, there is the food on Thanksgiving itself, the preparing of it, the leftovers for days afterwards. But there was more.
We decorate our Christmas ficus the weekend after Thanksgiving. Having a ficus is a tradition in itself. We have this tree that lives with us all year long and gets dressed up for the holidays. We have to buy little ornaments that won't be too heavy for the branches. We use the lights sparingly.
Though I could not stand holiday music for most of my life, right after Cavanaugh was born, I wanted to hear it. I wanted to feel like the holidays were coming, to get ready to celebrate. I had waited 35 years to become a mama and the music piping through sound systems everywhere we went started to appeal to me. Except that most of it sounded like elevator music. So we started the tradition of collecting alternative holiday music and making a Christmas playlist every year. We start listening to our music collection (or looking for new releases) the weekend after Thanksgiving, then we start putting together that year's playlist of favorites.
And this year, I'm thinking of adding a new one to our list. I heard a story on NPR the other day about the National Day of Listening, the day after Thanksgiving. The idea is that you take an hour to record a conversation with someone important to you. Maybe this year we'll record ourselves talking about what we've been grateful for, or explaining Thanksgiving to Cavanaugh. Or maybe we'll just start with an hour of recording our three year old. Actually seems like a great place to start. After all, he is the top of my gratitude list.
What are your inherited or created family holiday traditions?
Sonya Fehér is a co-leader of the S. Austin chapter of API and she blogs about parenting at mamaTRUE: parenting as practice and about writing at In My Wrong Mind.