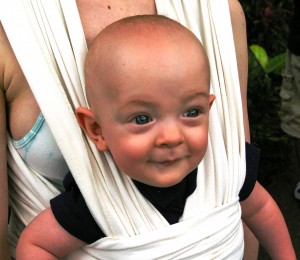 Whenever I pack our diaper bag, I include only necessities: two or three diapers, the changing pad, a handful of wipes, and a small notepad and pen. The notepad is a new inclusion, and is totally necessary. Anytime I forget it, I totally regret it. Why? Because every single time I snuggle Sweet Pea into his Moby Wrap at the store, or the park, or the university where Daddy teaches, someone says, "Wow, where'd you get that? My sister/my friend/my daughter could really use one!" This conversation though, is where my dilemma begins, because I am SO SOLD on the benefits of attachment parenting.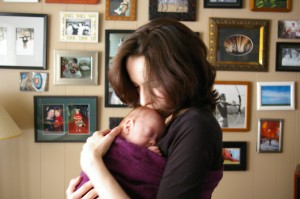 I long to share with them how much babywearing and AP have changed my life. It's hard not to tell the random strangers our whole story about overcoming the challenges of Sweet Pea's very premature birth.  In some ways, he is a poster child for using AP with premature babies.  My baby born at twenty-eight weeks is still exclusively breastfed (with the addition of a few avocadoes and pears) at a year old.  He's had a single cold in his first year and never been re-hospitalized.  His growth rate is the same as that of his term friends.  Wearing him close against me in the wrap in the early days when he came home was balm on the wound of our early separation and the subsequent two months we had to spend with limited physical contact.  I am so proud of my family for overcoming the overwhelming odds against us, and I am so grateful for AP for giving us the great tools to do so.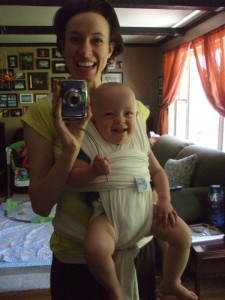 Instead, I watch my happy, secure, attached baby smile at everyone who comes near him and know that his sweetness speaks volumes for the benefits of babywearing. I can see how he brightens the days of the grandmas, mamas, friends and aunts who go out of their way to satisfy their curiosity about his unique method of getting around. Instead of the personal ways that babywearing has worked for me and my family, I talk in more general terms and try to be an ambassador rather than a missionary. I tell them the terms "attachment parenting" and "babywearing," and share how the wrap enables me to get more done around the house, how much easier it makes trips to the store. If they seem interested, I'll talk about studies that babies who are worn close most of the time are typically more content, and maybe mention the tradition of babywearing in other societies. After all, these were the things that drew me to wearing my baby. Once he was snuggled against me and I could feel every breath he took, I knew that helping me to clean the house was, for me, the least of the joys of wearing my baby. These joys are individual and family-specific, though, and I don't want to overload them with our family's story: I want to help them find their own.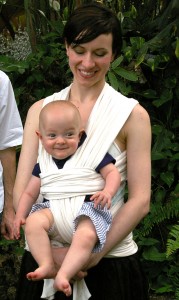 While they talk to him and he coos and gurgles back, I use my two free hands to find the notepad amongst the diapers and wipes and write down a few websites with information about babywearing and AP.  I hand them the paper, and they give Sweet Pea's chubby foot a squeeze as we make our goodbyes. As we walk away, I hope fervently that they will pass on the information to their friend or sister or daughter and get to discover their own unique joys of babywearing first hand.
Edited to add:  After posting this and checking out the links, I read the "Babywearing Ambassador" article for the first time, and was incredibly amused at how AP minds think alike…and how similar the reactions to seeing AP in practice are all over the world, apparently!  Do you have a similar story of your experience as an AP Ambassador?  Please share!