When my son, my husband and I came home from the hospital, my husband had to make an emergency run to get the foul-tasting supplement Poly Vi Sol, as well as a canister of formula. What business do I have on API Speaks? My son, Peter Gwydion, was born at 28 weeks gestation due to my developing severe preeclampsia. Instead of a third trimester filled with belly casts and pregnancy photos that ended with a beautiful homebirth, we spent two months living in an apartment an hour and a half away from our home while Gwyn worked hard in the NICU.
Obviously, I was totally unprepared for this situation. There's nothing you can do to prepare for the totally unique experience that you have at a NICU. I came to resent a main principle of attachment parenting – preparing for parenthood, pregnancy and birth. How could I have prepared for our pregnancy and birth, when our pregnancy and birth had become so totally out of my control? How was I supposed to be a decent parent, much less an attached one, from my bed in the ICU while my blood pressure refused to drop? I couldn't protect my son from all kinds of painful things, like heel sticks and shots. I couldn't nurse him. I couldn't even hold him until he was a week old.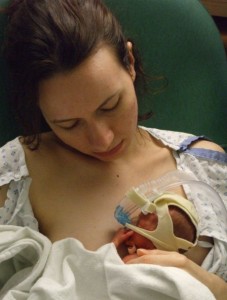 However, I realize now that what I was prepared to do, thanks to attachment parenting, was be my son's momma in the best way I could. So, instead of birthing him gently at home, I changed where "home" was so that I could be at the NICU as much as possible. Instead of a babymoon filled with nursing around the clock, I set alarms so that I would wake up and pump at three in the morning, thus keeping my milk supply up.  I insisted that he never be fed straight formula, but that it was mixed with milk to give him necessary extra calories.  I held him skin-to-skin as soon as I could, and reached through his isolette to provide nurturing touch whenever possible to try to counteract all of the jabs and pokes that he received daily. I brought a sling to the NICU, and wore him as soon as he was big enough (at three pounds!).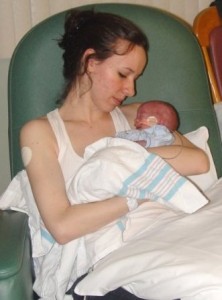 I also was prepared to regard my son as an individual, who would have his own unique challenges and triumphs through our sixty-seven day NICU stay. Because I'd already come to know him as Gwyn, who loved orange juice and had an amusing propensity towards kicking right underneath of my bellybutton, it was easier to not be devastated by the myriad horror stories that you are confronted with when you say the word "premature." Rather than a statistic, we knew that he was Peter Gwydion, and we treated him as such. We sang to him, read to him, just sat with him and celebrated his amazing life and strength together.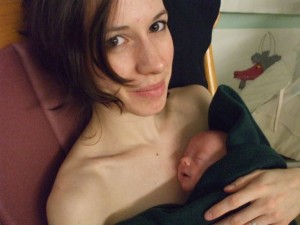 It's still very painful sometimes that we got such a rough introduction into parenting, painful that my baby didn't get the beautiful and gentle start that he deserved. I am grateful, though, that he was born into a family who was prepared to adapt to this new, totally unexpected situation. I am grateful to him for all of his hard work.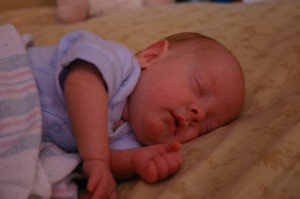 Our parenting principles of love, respect and support for our amazing, one-of-a-kind son are what brought our family through the NICU intact, albeit changed forever. Now, as I hold my happy, healthy baby, I feel prepared to meet whatever challenges we are faced with through the journey our family is on together.  We parent Peter Gwydion with the same support and love that we have been blessed with for a year, since we found out I was pregnant, and I am so totally grateful.