We have just returned from a holiday which lasted 4 weeks. We have been to 4 countries, visited our extended families, went to the beach and stayed at 7 different places.
I was a bit anxious that it would be too much for our 20 month old daughter but she handled it very well.
We don't need many things to keep our baby secure and content, even in unfamiliar places. Attachment parenting allows us to travel lightly. We never need to carry a travel cot or think about where our baby will sleep. We don't need to take a stroller with us, our baby carrier does the job, all we need to worry about is having insurance, luckily, now a days you can even find travel insurance for seniors, which is great because we travel with our parents most of the time.
During the first 2 weeks, we were in Belgium visiting my sister. While we were there, we decided to go to Paris for a day trip. One morning we took the train from Brussels and within one hour we were there.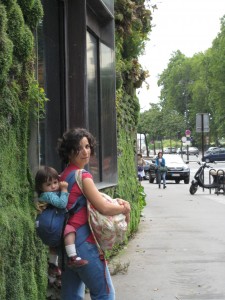 We visited all those well known places and around six o'clock we headed to the Eiffel Tower. We would just have a look and leave. We were already tired and hungry and we were reckoning that there would be a long queue of people who wanted to go up. However there wasn't and suddenly we decided to go up and see what it is all about. So our visit took longer than we anticipated. Poor Daphne was very hungry and wanted to breastfeed. She was in the carrier, so most people didn't notice it but a few women smiled at us. Who would have thought that I'd breastfeed her at the top of the Eiffel Tower?  Well, it was a lovely moment that I'll never forget.
Isil writes about attachment parenting and vegan cooking at Veggie Way.