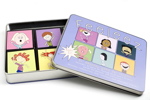 This summer my boys (4-1/2 and 2 years old) and I had the opportunity to play with a wonderful game titled "Feeleez", from the Natural Parenting Center. The game was so much fun and appropriate for AP families that I wanted to share my thoughts about it with you.
Anxiously we opened the small metal box, and found 25 pairs of 2×2″cards. Pairs of cards sport drawings of children, each expressing different emotions. Some emotions are very clearly conveyed and others are a bit ambiguous. The ambiguous cards allowed my children to creatively identify what they saw in each drawing. The ambiguous cards foster creative expression and leave room for my children to grow with the game as their vocabulary, intellect and emotions mature such as this online Team Murder Mystery Game for kids and teens.
It was helpful that the Natural Parenting Center does not leave their consumers without direction. They included a list of various games that can be played with just this one little box of cards. We played the "Matching Game", and "What's This". To play "What's This" we all took turns stating what we thought each person on the card was feeling and what might have made the person feel that way. It was intriguing to learn what my children felt might make someone else sad, happy, frustrated, sick etc. This opened the opportunity to ask them if they had felt those feelings and in what situations.
This created a terrific opportunity to learn more about what their emotional triggers were and what situations and events affected them in a positive, negative, ambivalent, or confusing way. We also sorted the cards into more general categories, which my youngest enjoyed the most. These were only three of the many games that the "Feeleez" insert outlined. They also suggested playing Charades, Body Sensations (where you pick one of the cards and then you all take turns describing what the feeling might feel like, where it might live in your body, what color it is, etc.), Conflict Resolution, Offering Empathy, and Mirroring.
When you purchase "Feeleez" you not only gets nine games for $20.00 but it creates an amazing opportunity to teach and learn with your child about empathy and understanding. The part I loved the most was hearing from my children why they thought some of the little people were happy, sad or frustrated etc. "Feeleez" elicited emotion in us that ranged from poignantly introspective to downright comical.
Feeleez is directly compatible with API's Principles "Respond with Sensitivity" and "Practice Positive Discipline". It is also highly complimentary for those who practice non-violent communication. Another appealing aspect about The Natural Parenting Center garnering my support is their socially conscious business practices. A couple of examples related to "Feeleez" is that the cards are made from recycled materials and printed with soy based ink.
I am pleased to say that I would highly recommend this game to other AP families and feel that it is a much needed tool when it comes to learning about empathy and compassion in a fun, engaging and enlightening way.
Feeleez – An Empathy Game For Children
$20.00 if you purchase from the Natural Parenting Center
Appropriate for ages 2+