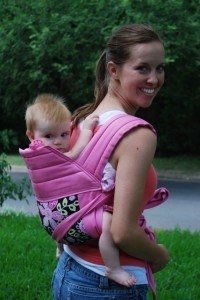 We are about to leave for our annual trek across the country to visit grandparents. I have been busy packing and trying to figure out how we plan to corral four children, including an infant and a young toddler, in the airport while we are on the go. I have been knee-deep considering borrowing friend's double strollers, sit and stand strollers, gadgets to roll our toddler carseat making it into a stroller and such. It seems like there are so many options out there for transporting small children, but yikes, they all seem so heavy! How the heck do you manage all the kid-toting as well as the luggage-toting?
So. I have been thinking about soft baby carriers. Because, heck, I'm sure that is what got this whole babywearing business started in the first place: what to do with baby while on the go… There must be some collected pool of knowledge out there and this is perfect for a new mom or a mom to be, and for the ones to be moms soon if you are travelling pregnant use the compression socks online from the Scrub Store to help you avoid blood clots and more if you are travelling with another child. Are you worrying about how you're going to keep those cute little piggy toes from turning blue this winter? Some of the most underrated, but essential, items a baby needs are socks. Socks tend to be a necessity we seldom put much thought into. I base my personal sock buying technique solely on what looks cute and comfy. The Deluxe baby funny socks for boys will add even more cuteness to your little dude's look. Whether he's into cars or space rockets, with four sizes available, there's a pair to suit him perfectly. The material is mostly soft cotton, with some polyester for elasticity.
Now, usually, for a baby under a year, I bring my trusty ring sling. I like that I can see my baby and she can see me. I can keep her entertained by giving her sips of water and easy finger foods likes cheerios. When we have to pass through security, I can quickly and easily pop her out, send the ring sling through the scanner, and get her resettled on the other side. Nursing in a ring sling is easy and discrete for me, something I always appreciate in a busy airport or a crowded airplane.
Ok, so in the past, for a toddler, I have usually preferred a two-shouldered carrier that is quick and easy like my mei tai. Hmmm…This time I will be traveling with both an infant under one and a toddler ** clears throat, laughs nervously ** So this is my plan: I am thinking maybe an umbrella stroller (with a back-up mei tai tucked away to use if necessary) for the toddler, a ring sling for the baby, and just insisting on hand holding to keep track of the five and seven year old. DH can manage the carry-ons/ luggage/ carseats, etc.
What do you think? Any suggestions? How have you handled traveling with little ones in tow?