When I was preparing for my daughter Ava's birth, there were a lot of uncertainties about what motherhood would have in store for me, but there was one thing I knew for certain – I would breastfeed. I didn't have a time limit set on how long I would breastfeed, I just knew I would do it, as my mom had done with me and my siblings.
My daughter Ava is now just three weeks away from her fourth birthday and she is still nursing. I am sometimes conflicted about how I feel about it. After all, it's not like I began my nursing journey saying, "I want to nurse my child until she's at least four." I did, however, believe I wanted my child to wean when she was ready, but I didn't anticipate how I might feel or what I might do if her idea/time frame of weaning readiness differed from my idea of when I thought she should be ready.
Ava nursed pretty much on demand, or, a phrase I rather prefer, on cue until she was around 2 years old. It was then that I was pregnant with her brother Julian and decided I need to cut back her nursing frequency a bit for my own peace of mind. A few months before Julian's birth, she was down to nursing once per day (before bed) and that's pretty much what she's been doing ever since (for the last year and a half).
A few months ago, I toyed with the idea of weaning her by her fourth birthday, so I threw the suggestion out there to her. At first she seemed amenable to the idea, but has since changed her tune, citing, "But I love mama milk," which made me smile. And then she also added, "I'm going to nurse until I'm 8!," which made me shift a little uncomfortably in my seat.
I feel like overall (with the exception of a few difficult months during my pregnancy) we've had a great nursing relationship and she's received so many wonderful benefits – great health, emotional security, bonding with her brother at the breast, etc. – over the past four years. I know it would be bittersweet if she weaned now, but I would feel very good about what I've been able to give her, as well as what she's been able to give me. However, I don't think she's ready yet and, as much as I'd like to just be nursing one child again, I don't think I am going to insist that she wean. I may still make suggestions and talk up the very rare occasions that she goes to sleep without having "na-na" by telling her how proud I am and what a big girl she is, but, for now, I think that's as far as I'm going to take it. When all is said and done, I really do want her to be able to decide when she is done.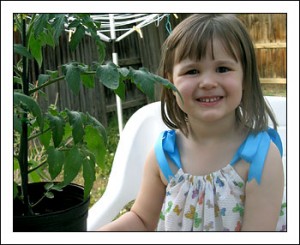 I didn't set out to nurse a preschooler, but somehow along the way, my sweet little baby grew from an infant to a toddler and eventually blossomed into a preschooler in what now seems like the blink of an eye. I am confident this won't go on forever and when I look back on this time when she's 10 or 20 or 30, and I look at the young woman she's become, I am hopeful that I will feel good about the choices I made and have no regrets.
Amy @ Crunchy Domestic Goddess