Originally posted on July 27, 2006 – Four months before my son Julian was born at home.
By now you may have gathered that instead of choosing to have an OB-attended hospital birth this time around, we are planning to have a midwife-attended home birth. There are a number of varied factors that have led me down such a different path with this baby and I'd like to share some of them.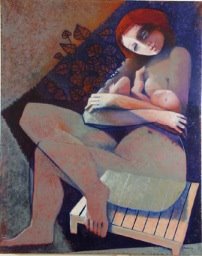 First of all, I believe that, in the majority of cases, birth is a normal, natural and healthy process. I believe in a woman's (and my own) ability to give birth naturally, normally and without intervention, as women have been doing for thousands of years.
I am drawn to the midwifery model of care because it feels normal and natural. I like that a typical midwife prenatal visit lasts 60 minutes (as opposed to the typical 6 minute OB prenatal visit) and does not feel rushed. I like that I am getting to know the woman who will be there for my labor and birth and that she will gain my trust so that I feel comfortable with her while laboring and birthing. I like that my midwife is interested in my nutrition and in suggesting preventative measures (such as acupuncture) to help ensure that I have a healthy pregnancy and birth.
My midwife in particular has a 15-year background as an EMT (emergency medical technician). I feel her experience in that capacity has helped her develop critical thinking skills and the ability to think quickly on her feet. After all, how can you be an EMT without that ability? I feel very comfortable that if a situation should arise that is beyond her comfort level, she will know what steps to take (i.e. a hospital transfer). Because of my history of complications with my daughter Ava, this was very important for us. My husband Jody and I both feel very confident in her experience and abilities.
I love the idea of birthing at my own home, where I am comfortable and able to relax without worrying about who's going to be walking in the door next (nurse shift changes, etc.), where Ava can play or sleep or do whatever she needs to (in a safe environment) and still be in close proximity to me and Jody. My sister will be her primary caregiver while I am in labor. And when the baby is born, Ava can chose whether or not she wants to be present. Yes, we will be preparing her with regard to what to expect when mommy is in labor, etc. We actually watched a birth video – "Giving Birth: Challenges and Choices" by Suzanne Arms – together this week and will be reading Welcome with Love with her, a wonderful children's book about a family having a home birth. I'd like her to be there, but I'm not going to force her. If she is meant to be there, she will be. After seeing her interest in watching the birth video though, I am pretty certain she'll want to see baby brother join us.
I also love the idea of being able to sleep in my own bed after the birth. That was one of the hardest things for me in the hospital, not being able to sleep. I eventually had to ask for sleeping pills because it'd been something like three days since I'd slept for more than a few minutes at a time, and trust me when I say having hallucinations while trying to care for a newborn is no fun. Being in my own bed will be heavenly. And I'm sure Jody would agree as well after sleeping on a flimsy mattress on the cold, hard hospital floor for five days after Ava's birth.
Another compelling reason for me to have a home birth is I'd like to labor and possibly birth in water and my midwife has a birthing pool that we can set up right in our house. There are no hospitals around here that I'm aware of that allow water births.
Because of all of this and more, I feel planning for a home birth makes perfect sense for us and I look forward to the experience.
————————————————
The following information was taken from The Homebirth Choice by Jill Cohen and Marti Dorsey and further illustrates why I've decided a homebirth is the right choice for me and my family. I cut and pasted some things that are particularly important to me.
A BRIEF HISTORY OF MIDWIFERY:
"Midwife means "with woman." Traditionally, women have attended and assisted other women during labor and birth. As modern medicine emerged in the West, birth fell into the realm of the medical. Since women were barred from attending medical schools, men became the birth practitioners. Having never had a baby themselves, they were unable to approach women and childbirth with the inner knowledge and experience of a woman. Childbirth became viewed as pathological rather than natural; unnecessary, and often dangerous or unproven, medical techniques and interventions became commonplace.
During the 1960s and 1970s, along with the women's movement and renewed interest in home birth, the midwifery movement rekindled. It has been growing steadily ever since. Midwives are becoming more and more involved with birthing families and have been instrumental in redefining birth as a natural event in women's lives.
Midwifery empowers women and their families with the experience of birth."

PRENATAL CARE:
"Prenatal visits may take place at the midwife's home or clinic or at the family's home. Prenatal visits are a time for the midwife to get to know the family and friends, neighbors, or other children who plan to be present at the birth.
Prenatal care for the pregnant woman includes discussion of nutrition, exercise and overall physical and emotional well-being, as well as overseeing the healthy development of the fetus.
Midwives include the family during prenatal care, inviting them to ask questions and to listen to the baby's heartbeat. Intimate involvement of the family throughout the pregnancy allows for early bonding of the newly emerging family unit.
The midwife and family will often discuss the mechanics of birth. The more people know what's going to happen, the more comfortable they may be while awaiting the birth."
LABOR:
"In the safety and security of her own home, the mom is likely to be less inhibited about trying different labor positions and locations. She can sit on the toilet or go for a walk outside. She can eat or drink whatever she wants. She writes her own script. When it's time to deliver, she can often try whatever position she wants: on her side, squatting, sitting or kneeling."
BIRTH:
"Home birth allows for full participation of family members. Under the guidance and assistance of the midwife, the opportunity is available for husbands or partners to "catch" their child as it is born. These moments can be very powerful and transformational in the lives of the new parents.
At home births, babies are usually immediately placed on the mom's stomach or breast, providing security, warmth and immediate bonding between mom and baby. This contact provides security for both mom and baby.
In the rare case when the baby has difficulty breathing on its own, midwives are fully trained in infant CPR. Usually, putting the baby right to the breast and having mom talk to her baby will encourage it to take those first breaths.
Putting the baby immediately to the breast helps reduce any bleeding the mom may have. The sucking action stimulates the uterus and causes it to contract. This closes off blood vessels and reduces bleeding.
Some members of the medical community have recently acknowledged that having a home birth decreases the mother's and baby's chances of contracting an infection. The mother is used to the bacteria in her own environment and has built up immunities to it. This is passed on to the baby through the colostrum. Even when women are segregated in maternity wards, infections are much more commonplace after hospital births than home births."
— Amy @ Crunchy Domestic Goddess