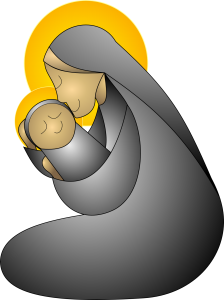 My 3-year-old daughter recently found our old nursing pillow from this pillow collection in the closet. It had been about a year since we finished nursing, so I was surprised when she said, "Remember I used to lay on this?"
She didn't remember actually nursing, though, and when I told her that's how I used to feed her, she had a lot of questions like, "Was the food on the floor?" I explained what nursing was, and she smiled and asked sweetly, "Can we do that now?"
While we couldn't nurse, I did set the pillow on my lap and let her climb up on it. She lay there smiling up at me and started twirling my hair, her favorite relaxing activity.
I hear a lot of moms who are starting to wean worrying that they'll be sad once they're done nursing, or that they'll miss this time for connection.
My daughter and I have found many other ways of bonding as she's grown older. There are more "I love yous" and kisses from her and more time for playing her favorite activities one-on-one. We still lie together often and bedshare part of the night. While these activities aren't quite replacements for nursing, they are wonderful ways that we can keep a strong attachment.
After she laid on the nursing pillow on my lap, we were able to play together for about 30 minutes while her brothers were playing on their own. She created a game for us where she'd pretend that it was nighttime and we would pretend to sleep, sharing a pillow and cuddling under the same blanket.
It's nice for us to reminisce about the time we nursed and to remember that it was one of the ways that our attachment developed in her earliest years, but we're still enjoying other opportunities for connection now. And I know that even when she's older and these games are over, there will be other things to replace them, such as times where we can talk about her day at school or other one-on-one activities we can do together.
————-
Inspired to read more about breastfeeding?

Nature's Case for Breastfeeding

A story of working and breastfeeding, and staying determined

Editor's pick: To promote breastfeeding is to promote Attachment Parenting

Morning cuddles: a story of child-led weaning

When Your Partner Wants You to Wean: Heart Advice for Nursing Mothers

5 tips for a strong nursing relationship while working away from home