Editor's note: This post was originally published on Oct. 21, 2008. As many of Attachment Parenting International's families live in the Northern Hemisphere, spring is right around the corner and this post fits well with the season.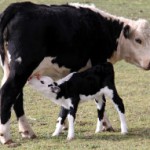 We took the kids to the farm where our milk and beef comes from today. We got to see the cows being milked, met the young calves, went for a hay rack ride, sampled the cheese and enjoyed beautiful weather.
When we got home, my husband John and I remarked to each other that the trip had really been fun!
Last fall at this event, Karl wasn't walking yet, and Erika still needed a lot of supervision. This year, I watched the kids on the hay bale play structure without feeling stressed out and worried that they were going to run off in different directions, while John went on the creamery tour all by himself and listened to the owner explain all the equipment and techniques. The kids both had enough patience and interest to watch the cows being milked for 10 minutes. They stayed seated for the whole hay ride without significant effort on our part.
It is amazing how not needing to focus so much on keeping them safe allows me to focus more on enjoying them. Karl was delighted by a pair of kittens and thrilled that the mama cat let him pet her. He laughed when a calf licked him. Erika loved climbing on the hay bales and pretending to drive an old tractor. Watching them have fun is a joy for me as a parent. And not feeling like the next moment is quite as likely to have one of them running in front of a car, makes it much easier to relax and experience that joy more deeply.
For me, one of the hallmarks of Attachment Parenting is when a family genuinely enjoys being together. The parents aren't always looking for time away from their kids, and the kids are happy to be with their family — where each family member is present for the others. I can only hope that as we continue to grow together, our family life will bring more fulfillment and joy to all of its members.