During pregnancy we make sure to eat and live as healthily as possible (with the occasional Ben and Jerrys..okay weekly Ben and Jerrys). For the most part though, we pay more attention to our diet than we otherwise would. We strive to grow big healthy babies and we start eyeing spinach, apples and all things a positive lifestyle inhibits. We follow all of our doctors advice and study the do's and don'ts of pregnancy. These decisions as new and glowing parents come very easily to us. Rarely does one put up a fight against the efforts to grow a healthy baby in the womb.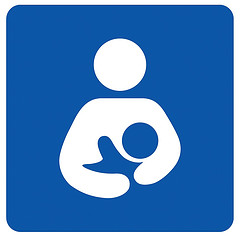 After that baby is born however, many parents encounter a very difficult struggle with just this effort. The definition of feeding and raising your baby in the most nutritious manner becomes ambiguous. The battle between formula and breastfeeding rears its ugly head. Sadly, many times the ambitions to breastfeed are tossed aside as life with a newborn becomes just too hectic and exhausting.
From my own personal experience I found feeding time to be quite stressful. Just after giving birth to my daughter I knew I wanted to breastfeed, but I hadn't read too much up on it. I assumed, like many new mothers assume, that it would come very easily and naturally. My little bundle of joy would latch on and we could bond like all the mommies and daughters in those parenting magazines I had seen in my doctor's office. What I didn't realize was that the choice to breasted was a huge decision as a parent. It was the type of decision that I should not have tread over so lightly. As a parent, the decision on what and how to feed our daughter would dominate many of our parenting decisions and new lifestyle.

While breastfeeding is by far more nutritious and wholesome, it also calls for more frequent feedings, more poopy diaper and much more persistence than thought possible from a sleep-deprived mother. Dieting back down to skinny jeans and the occasional margarita were also much harder to come by than my pregnant daydreams had anticipated.
The decision to breastfeed also left me unable to share many of my new parenting responsibilities with my husband since I was the only one capable of feeding her. Sleep became less of a necessity and more of a luxury. Breastfeeding was turning out to be harder than I had ever imagined! Every three hours my newborn was hungry. Every feeding time was spent struggling to latch her on as I worried whether or not she was eating enough. Going out in public also created frustration as I was nervous to nurse with an audience and embarrassed because I felt like others could tell I wasn't completely sure of what I was doing.
Breastfeeding was taking over my life and while any new baby can accomplish that feeling, the demand of breastfeeding only took this up a notch or two..or three. Needless to say, I began to mentally battle my desire to breastfeed with the frustrations that it had introduced into my life. I began scouring the internet to read other new parents' journeys. Unfortunately I found that many new moms gave up after just a few weeks of breastfeeding. Most , like myself felt overly burdened by the demands breastfeeding posed. It made me wonder how this was handled before the advent of formula. I tiptoed on the idea that perhaps as a whole we were becoming lazier and more selfish parents?
It wasn't until I adopted an entirely new perspective on breastfeeding that I was able to battle my negative thoughts. After realizing what an incredible feat it is just to be capable of breastfeeding my baby I became a proud mommy. No longer was I hemming and hawing over the extra time it took to feed or the hassle of nursing in public. I reminded myself that my body was working overtime to nourish another human being. I should take a moment to appreciate the beauty of body that can not only spend nine months growing a baby, but can also build a supply to nurture that baby for months or even a few years if so desired. My decision to breastfeed was actually quite similar to my efforts to eat and live healthy while pregnant. Yes it takes patience and persistence but isn't that the very essence of parenting? Why skip out on the first decision a parent is entitled to? The breastfeeding battle was over.
It was also very helpful to recall all of the health benefits of breastfeeding (decreased risk of obesity, aids in building baby's immune system just to name a few) as well as the financial advantages (breastfeeding is absolutely free while formula can cost around $200 a month).
Soon breastfeeding became the most beautiful and amazing time spent with my baby. Feeding time was no longer frustrating as it developed into a personal parental decision and less of a burdensome responsibility. Patience and perspective beat the breastfeeding battle.
Photo: Topinambour/Flickr