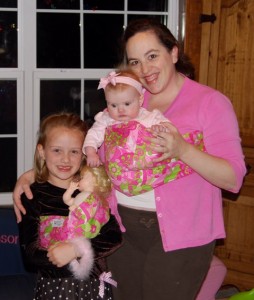 I have often wished that I had a plentiful, varied, bottomless stash of soft baby carriers that I could give away to each and every parent or caregiver who wanted and needed one, a sort of a Sling Fairy, if you will. Here is who I would give them to:
To the mama at the mall, balancing an infant on her hip, pushing an empty stroller ahead of her and trying to get through the mall double doors.
To the playful dad at the park who is clutching a newborn like a football and attempting to run and chase his preschooler.
To the overwhelmed mom at the grocery store who keeps shoving a pacifier into the mouth of her increasingly angry, screaming newborn who is buckled into a car seat carrier which is perched on the grocery cart.
To the couple hiking through the woods whose child is getting weary of the stroller.
To the new grandmother who is handed her tiny grandchild and is wishing for a sure-fire way to comfort her.
To the professional who is attending a business conference with her 9 week old nursling in tow.
To the family traveling with two children under the age of 2 whose stroller is just broken beyond repair by the airlines.
These are all people I have seen and wished I could have helped, but also, each one of these scenarios was also ME or my family and I did in fact whip out my sling or other soft baby carrier and put it to good use! How about you? Do you have an example of when you were thanking your lucky stars you had brought along your soft baby carrier? Or when you wished you had a sling you could hand over to a parent who obviously needed one?