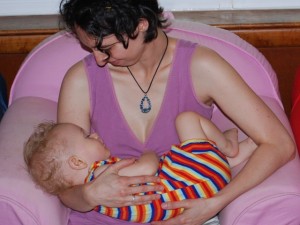 Is it just me or is our society ridiculously quick to expect moms and babies to separate? It seems to me that our cultural norm dictates that mothers need "alone time" that can only be meaningful if they do not have a baby or small child along. In my experience with mainstream culture, even "mom type events" as a rule are expected to be child free. We moved to a new city when my oldest was ten months old and I reached out to many different groups looking for companionship (Moms and More, Mom's Book Club, Moms group through my husband's residency…) and over and over the expectation and the norm was that moms and babies would be separated. Awful!
It just seemed so silly to me. I mean small babies nestled peacefully in a sling are just so portable! How silly to not be with my baby just so I could have adult companionship.
And really, all it takes is a nasty look or a snide comment to completely derail a now mom's confidence and make her feel unwelcome. Yuck. Since when do we need permission to remain with our babies and small children?
I am so grateful that all API and La Leche League functions welcomed my babies and children and I am sad that this is even an issue in our society. Of course moms and babies belong together. How absurd to suggest otherwise.