By Lysa Parker & Barbara Nicholson, cofounders of Attachment Parenting International and coauthors of Attached at the Heart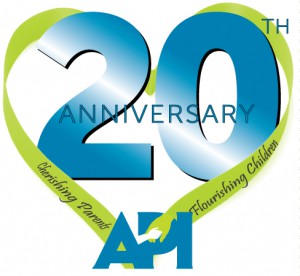 It was 20 years ago when we hatched our idea to "save the world." We were, and remain, hopelessly optimistic that we can effect change in our society.
Both of us are parents, with six sons between us, and we both were teachers with experience on the front lines, which gave us the perspective, determination and passion to begin a grassroots nonprofit organization called Attachment Parenting International (API).
Why did we do it?
When we were new mothers, we felt so insecure about our abilities. We just didn't feel knowledgeable or prepared, even though we read just about every book we could get our hands on. We both lived far from other family members.
So, when we became friends, we glommed onto each other for support. We also found support and education from our local La Leche League breastfeeding group. Our experience with La Leche League prepared us in so many ways and provided us with opportunities to learn from other, more experienced mothers. These experiences gave us confidence and skills to be better mothers.
At these monthly meetings, we first learned about Attachment Parenting and read books by Dr. William and Martha Sears. Their books were like a buoy in the ocean — guiding our way, helping us keep our sanity by giving us reassurance that we were doing the right thing.
In time, we learned to trust our own innate wisdom and mothering instincts, which allowed us to connect with our children in ways that we would never have thought possible. Of course, we made a lot of mistakes along the way…just ask our sons. But the fact is that we are better for the experience, and our children are better for our experience.
In the early 1990s, we began to read about kids killing kids and kids killing their parents. What in the world was happening to children that would cause them to commit such heinous crimes?
Then we read a book called High Risk: Children without a Conscience by Ken Magid and Carol McKelvey. This was the first time we learned about Dr. John Bowlby and Attachment Theory, which hypothesized that the lack of emotional connection created all kinds of emotional and social problems, including violence.
The work of Dr. Alice Miller awakened our awareness of the influences of culture on the treatment of children. Until we come to terms with how we were treated as children, we will continue to perpetuate the same attitudes and treatment with our own children.
The culture in which we live has tremendous power over us, and it takes consistent and conscious effort to go upstream against the current of popular opinions. Dr. Miller, who passed away in 2010, made it her mission to abolish corporal punishment in every country because she believes that will be the only way we can begin to move forward in eliminating violence toward children.
Given all this information and from our own experiences, we knew in our heart of hearts that Attachment Parenting was the key to creating emotional connection and making families stronger.
We believed — and still do — that if parents are given good information about why it is so important to nurture children, the tools to do it and parent groups that support them in their choices, then we will have a lot of empowered mothers and fathers.
Renowned anthropologist Margaret Mead once said, "Never doubt a small group of committed people can change the world; it indeed is the only thing that ever has."
We parents might just create a paradigm shift in child rearing.
We began going to the library and spending hours, days, months and years researching and reading articles, books and magazines from as far back as the 1940s. This was before the Internet was widely used. We called anyone we thought would give us advice or information, and many were more than happy to talk to us. They shared their wisdom and encouraged us all along the way.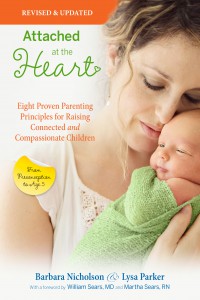 Our book, Attached at the Heart, is the culmination of more than 15 years of information gathering, investigative research and practice. We believe that it is critical for parents to have this information in order to make informed decisions for their children in our increasingly complex society.
Until recently, we have heavily relied on and trusted others to know what is best for our children. We need to educate ourselves and rely on our own knowledge of our children.
Since the early 1990s, the world seems to have become worse, not better — even more violent and chaotic. People are looking for answers, for something they can do to change this direction, because we can no longer rely on politics and governments. Many realize that it has to begin with each individual and within each family.
API's Eight Principles of Parenting are a blueprint for change and are discussed in Attached at the Heart. Rooted in sound science and common sense, these principles provide a framework of an overarching philosophy: Listen to your baby, and trust your instincts!
Every family is unique with unique circumstances, and there is no such thing as perfect parents. We always carry with us the legacy of those generations who went before. The way we were parented and the wounds that we carry inevitably work their way into our interactions with our children, which is why it's so important to consciously work on those issues.
Please know that API's Eight Principles of Parenting are not intended to be standards of perfection but rather to be used as guidelines to help you feel informed, validated, supported and confident in your child-rearing decisions.
It's so important to base your daily decisions on what will strengthen your attachment with your child, given the current circumstances. Ask yourself: "Will this strengthen my connection with my child?"
If the situation is not ideal, but necessary, then ask yourself: "What can you do to minimize the impact of the situation for your child?" And, "What can you do to reconnect with your child?"
Enjoy your baby, knowing that the love you give will come back to you in more ways than you can imagine for generations to come.