When I first became involved with API Headquarters it was as the Western Regional Director. I worked directly with Support Group Leaders throughout the western region and came to know some of them on a very personal level. I enjoyed the level of friendship and support that we extended to each other. I have now transitioned to the position of the API Office Manager and through this position I have come to know many of our member volunteers and have to say that I have enjoyed getting to know them as well. By helping volunteers find a position that they enjoy and thrive in I have made some wonderful friends and am able to work with some of them on a daily basis. Their enthusiasm for the work that API does and the love that they share for all children is contagious. They motivate and inspire me and I'm grateful for all that they do.
Volunteer Spotlight – Meet Adrienne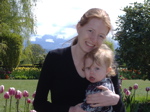 I've been volunteering for API since January and absolutely love it! I serve as a copy editor for Headquarters and as a junior moderator for the forums. I signed up for the copy editor position as soon as I saw the ad.
This role has so many rewards for me. First, I know that I am helping API maintain a professional image by helping out with something that often gets left behind when time and other resources are limited—editing! Second, I'm launching a career in editing and, though I have significant training and experience, the work with API has helped me broaden my knowledge and expertise. For example, I was able to edit documents for the Web, something I'd studied but not yet gained experience in. And, finally, it's really not any extra work. I am reading and editing things that I would have chosen to read anyways, out of personal interest! You can't beat having a 'job' that involves doing things you'd be doing anyways!
While editing for API, I learned they were seeking volunteers for forum moderators, and I jumped on the chance. I love the support offered in online forums, and I was thrilled that API was launching their own. I've really enjoyed being a part of it and am so pleased that the forums have been busy since day one!
API is such a wonderful organization. I'm so grateful that I learned of it early on in my parenting experience. My family has enjoyed so much in our relationships because of AP, and I relish these opportunities to give back for the priceless gift API has given me.
Volunteer Position Highlight – Technology Team Members
We are currently looking for a couple of volunteers for our fabulous Technology Team.
Technology Manager
API is looking for someone with a background in technology to research new technologies and help with the implementation and maintenance of API's shopping cart, forums, databases, and future technology offerings. Specific experience with pod casts and webinars is a plus. If you are interested, please contact Julie.
A Web Content Manager
API is looking for someone with a background in web-based communication to drive the content and style of the new API Web site. Excellent written communication and organizational skills a must. Specific experience with designing information for the web, design, navigation, news feeds, promoting web content is also a plus. If you'd like to be considered for this position, please email Rita.
If you believe in the value of our mission to educate and support all parents in raising secure, joyful, and empathic children in order to strengthen families and create a more compassionate world, please join with us today. Click here for more information on the various volunteer positions that our organization currently has available. Please know that this list is not comprehensive. If you have talents and experience that you feel would further our mission, please email me so that we can chat about the possibilities!
Warmly,
Brandy Lance