Is being an attachment parent worth it? Let's face it, it can be tough.
I co-slept — with kicking kids who woke up repeatedly during the night, all night long. One night my youngest kicked me in the breast so hard that I developed a massive lump and had to get an emergency mammogram to make sure it wasn't going to explode or fall off. But the worst thing? I was so sleep deprived that I didn't even wake up when it happened….
… Our friends who Ferberized their kids boasted about what great sleepers their kids were. "Little Johnny sleeps through the night and doesn't wake until 8:00. Sometimes I have to wake him up for breakfast!"
I nursed — when my breasts were so sore that I'd have cut them off and hung them on the wall if I'd had the option. Breastfeeding hurt so bad with my middle child that I would start crying as soon as she woke up hungry, even before she latched on…
… My friends would pull out a little bottle, shake some sticky powder into it, and pop a plastic nipple into Little Suzy's mouth, who happily gulped it down. I even had a friend who had one of those bottles with the long tube attached to the nipple, since she couldn't even be bothered with holding her baby to eat.
I carried them — my newborns, my toddlers, and my preschoolers for a thousand miles, sometimes more than one kid at a time (thank goodness they were small!). Sometimes one would be in a backpack, one would be in a sling, and one would be on my hip or holding my hand….
… My friends would be (choose one) dragging their kids along by the hand because they didn't want to cooperate, lugging immensely heavy carseats, or pushing them apathetically along in a stroller.
I responded with sensitivity — well, that is, pretended to be patient, endlessly giving words of reassurance or encouraging mediation, while my inner voice was screaming behind my ears, "Just stop it, already!"…
… My friends would pull their kids behind a fence and give them a swat or two, or maybe put them in time out. Problem solved.
My friends — wonderful, loving, committed, but decidedly non-AP friends — would look at me with a sorry mixture of pity, confusion, and something bordering embarrassment as I stuck to my guns, refusing to spank my kids, punish them, or demean them.
Clearly, some of my friends thought that I was coddling my children, perhaps even dooming them to a life of feeling entitled and being unfulfilled.
But I tried my best to treat my kids with the same respect that I would want. They had just as much value and deserved just as much respect as I did. Why would I want to teach them that the world doesn't respond to their needs (that is, CIO)? What would be the point of saving myself some discomfort now (okay, let's admit it, a lot of discomfort) by bottle-feeding when I was perfectly capable of breastfeeding, especially at the expense of their health? How could I tell them to stand up for themselves and not let the world take advantage of them if I treated them like "less than" or if I demeaned or humiliated them? And did I really want my kids to think that I was the absolute authority on everything, so much so that they needed to jump to my every command, lest they be punished?
Nope. I wanted my kids to think for themselves; to know that their parents always had their best interests at heart, even when it wasn't convenient; to be able to count on their parents to be there when they needed us; and to know without a doubt that their thoughts and opinions were just as valid as mine or their dad's – or any adult's.
Was it easy? No, not always, especially at the beginning, especially when what I was doing was so different from my mainstream friends' strategies.
Now, though, I must say that it's the easiest and most natural thing imaginable. Today my children know that they're valued and worthwhile and that they're the equal of every person on the planet, no matter their age. They're secure, they enjoy spending time with my husband and me, they enjoy each other, and they're just plain fun to be around.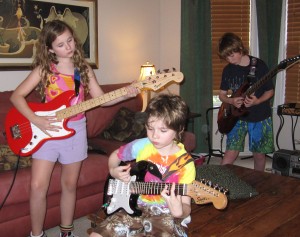 And what about my friends' children? Are they easy? Well adjusted? Self-confident? Still connected to their parents? Some certainly seem to be. But, well … not all of them are. I see many (most?) of them turn to their peers for validation. Some put up a good front at being cooperative and "good" while investing a lot of effort in "getting away" with things behind their parents' backs. And others bow to authority simply because of the authority's age or position.
That's not what I want for my kids. I like to think that the "work" I put into being an attachment parent in the early years is paying off now. After the thousands of hours and hours of effort I spent cosleeping, nursing, playing, talking, listening, comforting, mediating, and just being, I'm seeing the rewards.
And those rewards will last a lifetime.
Camille is an attached mom of a teen, a preteen, and a tween and writes about parenting, homeschooling, and chaotic living at TheEclecticMom.blogspot.com.