Have you stepped out of the paid workforce to care for your children?
Some parents find themselves at home by choice, others by circumstance; some for a short time, others for the long-term. Either way, you likely have questions and thoughts that you'd like to share with someone who has been there, done that.
Family & Home Network is now inviting parents to join its signature 6-week online workshop, Transitioning Home.
Offered at no cost, but with limited seating to keep discussion groups small, these facilitator-led workshops meet weekly for conversation and reflection. There are optional readings and journal prompts between meetings.
Related: Transitioning home with Catherine Myers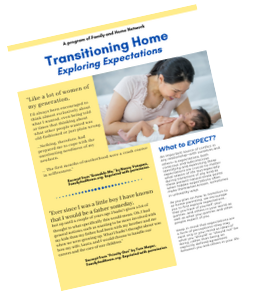 This new handout offers a preview of one of the guided discussions in the Transitioning Home workshop series: Exploring Expectations.
Workshops will be held virtually through Mighty Networks. There are two options to join a Transitioning Home workshop: Sign up for Tuesdays at 1 pm EST or Thursdays at 3:30 pm EST. Start dates TBD, depending on enrollment. Evening workshops may be scheduled, depending on interest.
"Being at home certainly will change you, but it need not diminish you. It is as much about receiving as it is about giving, and the self you find at home may be a gift that cannot be purchased with the remunerations of the workplace." ~ Nelia Odom

"Unfortunately, many aspects of mainstream culture create barriers to meeting children's needs. Scientific studies are providing abundant proof of children's needs—but it is difficult to change cultural practices, attitudes and policies." ~ Catherine Myers