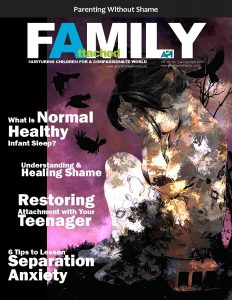 Attachment Parenting International (API) is pleased to announce the release of the latest issue of Attached Family: "Parenting Without Shame."
In this issue of Attached Family, API examines shame versus guilt and how shame contributes to emotional trauma. API looks at the intersection of parenting and shame, keeping in mind that shame is a normal emotional response to certain social situations, but like anger or disappointment, when unresolved, shame can lead to lifelong difficulties.
Inside this issue, you'll find mind-bending, inspiring, and empowering features to stretch your parenting wings:
"What is Shame?" by API Executive Editor Rita Brhel — defines shame, how it differs from guilt, when it crosses the line to become toxic shame, and what parents need to know
"Core Beliefs Color Your Parenting," also by Rita Brhel — explains how shame-based core beliefs affect our everyday decisions, including our parenting behaviors
"What Makes Emotional Trauma? Fear, Disconnect and Shame," an interview with Daniela Sieff, PhD — explores the ingredients to developing a shame-based view of oneself and what is all involved in healing, which certainly underlines the importance of prevention through parenting
"Parenting as a Protest Against Hate" by Lauren Gottschalk-Scher, motherhood fashion designer — looks at how parenting can be activism
"What is Normal, Healthy Infant Sleep?" by API KnowledgeBase Coordinator Art Yuen — discusses what biologically normal sleep in infants, and adults, looks like and the effects that artificial light and work productivity expectations have
"6 Tips to Lessen Separation Anxiety," also by Art Yuen — looks at goodbye routines and other ideas for children and their parents when separation is necessary, such as for working parents
"Self-Validation Before Self-Control" by Denise Durkin, MA, child mental health consultant — explains how development of a positive self-worth must be in place first before trying to teach a child self-control
"Engagement vs Redirection to Create Emotional Safety," also by Denise Durkin — describes the differences between these two discipline techniques and why engagement may be the better choice
"11 Ways to Parent Outside the Box" by Brooke Campbell, MA, creative therapist — gives ideas on how to incorporate more attunement in parenting
"How to Heal Attachment with Your Teen" by Shoshana Hayman, Neufeld Institute Faculty — outlines how the teenage years can reveal attachment weaknesses and how to restore a close attachment when necessary.
Shame can be a difficult topic for parents. This issue of Attached Family helps you be able to explore this topic safely. API hopes you take away the idea that parents don't need to fear shame as a normal emotion, but rather that when shame enters our children's lives, that Attachment Parenting is exactly how to address it in a healthy way.