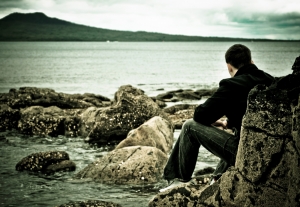 A mother of a son, who was already married and had a family of his own, told me of the time he was much younger and in love with a young woman who rejected him. This happened during his army service, and he would call his mother night after night, sometimes at 2 or 3 in the morning, to talk to her about his loss and sorrow, until eventually he recovered.
The reason this mother shared her story with me was because of a different soldier in her son's unit who also had a love who rejected him, but the relationships in his family were broken and he had no one with whom he was close to unburden his sorrow and be comforted. He could not recover from his loss; it cut too deep, and he committed suicide.
Suicide is one of the many faces of aggression – self disparagement and self attack. It is rooted in deep frustration that cannot find its way out through a period of mourning, and it cannot find its way to the thoughts and feelings that can temper its expression. The processes of first finding our sadness and then our tempering elements are human processes that help us keep our perspective on life and develop the resourcefulness and resilience we need to adapt to the circumstances that come our way. In helping children grow up, our thinking must be oriented toward supporting these processes and paying attention to the signs of them becoming stuck.
A teenage girl who was coping with many different sorts of problems wrote her mother the following note:
"I have no reason to live. If this is what my life has to be like, I would rather not go on with it. I am not depressed. I just don't believe my life will ever be any different and so it's not worth living. But I know what that would do to you. And so I live for you."
Of course we want our children to have their own reasons for living. We want them to wake up in the morning and look forward to living their lives to the fullest, setting goals for themselves, feeling excited about their direction in life, defining and working toward fulfilling their dreams. It takes time for a growing child to find his own reasons to live. "And so I live for you" is a pretty good place to start.
As the mother of the young man who lost his love, recovered and continued building his life, we want to be the answer for our children. This mother discovered and felt deep gratitude for the power of the relationship she had developed with her son over the years. We want to be that place where our children can turn when life is dismal and all seems lost. This is the shield from the pain cutting too deeply. We want to be a safe haven of warmth and comfort.
Being this person is the essence of being a parent.  It means finding this capacity deep within our hearts. It requires compassion and a yearning to be able to give this of ourselves. Out of this grows our children's own individuality, vitality and will to live.