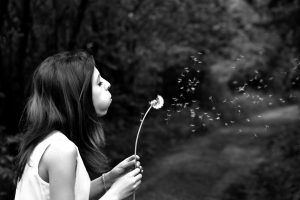 I dropped off my 10-year-old daughter at the art museum for another fun, creative day of summer camp. I hovered by the Admissions Desk, watching the kids get settled in.  As part of their morning warm-up, the kids hang out in the museum's atrium, and while they wait for their peers to arrive, they engage in free-play and stretching exercises.  Afterwards, they head upstairs to start their day creating beautiful works of art — expressing their artistic, distinctive, creative selves.
My daughter stood out from the rest of the crowd with her signature ears headband she has been sporting since she was 7 years old and bright, mismatching clothes: shorts, knee-high socks and a big, bright green beach bag she had decided was the perfect accessory even though they don't go to the pool — who am I to argue?
She was sitting on the third step of a four-step staircase. With much enthusiasm and confidence, she pulled out a thick book from her bag and started to read. I felt a sense of profound delight in watching her: She seemed so peaceful and content. Unlike many girls her age, she doesn't look to her right or her left for directions — she looks within herself and marches to the beat of her own drum…oh, how I love that about her! Countless adults spend their entire lives struggling to reach that place of inner tranquility. I marvel that she is already there.
I looked around and noticed that all the other kids were nearby on the platform at the top of the staircase. They were interacting with one another, playing or chatting. Not my girl — she was reading intently, oblivious to everything around her.
I thought to myself how it is apparent that she didn't blend in with the crowd, and I felt a little tug in my stomach. Like most other parents, I wish for my kids to fit in and be socially adept. I was thinking that, during our drive back home, I should gently suggest that she socialize during the morning warm-up instead of reading a book.
I then looked to my right where my social butterfly — my 7-year-old son — was standing, and I chuckled. Here was my other child who thrives on being around his peers and playing with them…all day long! As for reading books? You may have guessed it: He is not a fan!
I had recognized that my daughter's social barometer is different than her brother's and perhaps most of her peers — to reach her inner balance, she needs a different ratio between "me-time" and "friends-time." In that moment, I understood that I ought to just let her be, knowing she is a healthy, well-rounded, well-adjusted child.
I needed this reminder, because I wholeheartedly believe that as parents, we ought to honor and respect who our kids are and support the needs of their individual spirits — allowing them to be their authentic selves.
Our children are not blocks designed to fit perfectly into a designated box. They are each unique, with their own shape and characteristics. The most creative, successful people are the ones who exist and think outside of the box — heck, they may not even be aware there is a box! Conforming for the sake of "blending in" or "fitting in" is diminishing their ability to blossom and dimming the light of their soul. 
I am pleased that my daughter chooses not to blend in at times. It fills my heart with bliss to watch her shine as her beautiful soul blossoms.