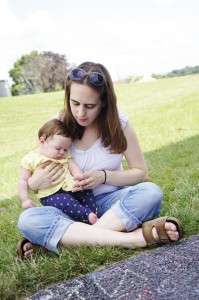 It's 4 a.m. My baby is awake again. She has nursed and fallen asleep…and then woke up again the second I tried to move her. Now she is wide awake, eyes open and smiling at me. I am exhausted — beyond exhausted. And I have to be up in a few hours to take my son to school.
I really feel like I can't handle this much longer. I just want to sleep.
Then suddenly a thought pops into my mind: Someday you will miss this.
I know that it's true. Someday I will sleep again — full nights without interruption — and in a strange way, I will miss this moment.
I won't miss this feeling of being so, so tired, but I will miss the feeling of my baby's small body snuggling up against my chest and how soft and chubby and warm she is. I will miss how, once she finally falls asleep on my chest, it feels so comfortable and perfect.
Someday I will no longer nurse her and cosleep with her, she will be too big to lay down my body, and she will not need me to put her to sleep at all. And I will miss having this sweet, warm baby who loves me more than anything.
I try to remember that, in the middle of the night when I feel like I simply do not want to be doing this anymore. I try to use it as an opportunity to enjoy her and to let her know how much I love her by hugging her, covering her fat cheeks with kisses and meeting her needs.
It's easier said than done, especially when I'm half-asleep, but it definitely helps to change my attitude: Instead of thinking about how much I hate being awake, I make an effort to focus on how much I love this time with just my daughter and me.