This year's Attachment Parenting Month theme is "Relax, Relate, Rejuvenate: Renewed with Parent Support." We are delighted to kick off AP Month with a guest post about the importance of support by Nancy Massotto, Founder and Director of Holistic Moms Network.
We live in a virtual world.  We connect online, spend hours in front of screens, and "friend" people we hardly know.  But deep inside, intuitively, and especially as parents, we know in our hearts that in-person, face-to-face connection matters.  We know it for our children and carry them, wear them, share sleep with them.  But we seem to be forgetting that in real connection is just as important for adults.  In real life connection and community matter holistically – for physical health, emotional wellness, stress reduction, and spiritual growth.
Yes, in recent years, we have seen a remarkable decline in the social and civic engagement of Americans. Over the past 25 years there has been a 58% drop in attendance to club or group meetings, a 43% decline in family dinners, and a 35% reduction in simply having friends over. Oh, sure, we're busy. We have other things to do. So what's the big deal? The problem is that a decline in connection reduces "social capital" or the collective value of our social networks which help build trust and cooperation. A reduction in social capital has been linked to decreased worker productivity, rising rates of depression, higher rates of crime, juvenile delinquency, teenage pregnancy, and child abuse. Social capital is also what makes governments more accountable and responsive to their populace. And, on an individual level, a lack of social capital leads not only to loneliness, but also to a lack of trust among people and an unwillingness to help others. In 1960 55% of American adults believed that others could or should be trusted most of the time while by 1998, only 30% agreed. "By virtually every measure, today's Americans are more disconnected from one another and from the institutions of civic life than at any time since statistics have been kept. Whether as family members, neighbors, friends, or citizens, we are tuning out," argues the researchers of the Better Together Report.
Reconnecting through social groups by being part of community, serving on a town committee, organizing a neighborhood block party, supporting local businesses and farms, or singing in a choir can help rebuild our social capital, reaping benefits on individual, group, and national levels (click here for more ideas on building social capital). Being part of supportive parenting group is another way to help recreate community and play an active role in strengthening not only social capital, but your own personal health and well-being. It matters for all of us and for the sustainability of future generations!  In fact, joining a community group could actually cut your risk of dying next year in half.   According to political scientist and author Robert Putnam, being part of a social network has a significant impact on your health. "Joining a group boosts your life expectancy as much as quitting smoking" according to the Saguaro Seminar on Civic Engagement in America published by Harvard University.
One of the biggest challenges – and frustrations – that we have at organizations such as Attachment Parenting International and at the Holistic Moms Network is that we believe in the power of building community. We understand how valuable community is, not only in crisis, but every single day. We recognize the power of connection, the energy behind being supported, and the difference that we can make collectively. We believe that communities are what make our culture successful – and that apathy and a lack of participation is what destroys it. And we see far too much of the latter. Online communities don't cut it. Facebook friends can't help you care for a sick child, run an errand for you, or give you a shoulder to cry on. Virtual forums can't give you a hug, watch your kids while you clean up a mess, or cook you a hot meal in your time of need.
Real people can. Real communities can. And some of our proudest moments come during these times. Whether in illness or injury, or a life-changing event like having a new baby, real life communities rise up to support their members. Members encourage each other through the rough times – the sleepless nights, the breastfeeding challenges, the teen rebellions.
Overcoming apathy is an uphill battle. Constantly encouraging people to participate, to get involved, and to be active is not always easy. We are so insular in our daily lives that we forget how wonderful it is to have that group connection – not only when a crisis hits, but even in the good times. A simple conversation, a shared experience, or a helping hand can make the difference.  I encourage you to be part of it, in real life, in real time, every day.  Find the time, create the opportunity, and be part of a community.  Feed your soul, help another, and make a difference.  It's up to you.  If we all stop participating, we have no one but ourselves to blame when the communities we depend upon no longer exist.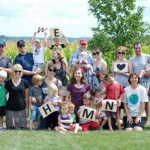 Nancy Massotto is the Founder and Executive Director of the Holistic Moms Network and mother to two boys. She founded the Holistic Moms Network to meet other parents who shared her passions for living healthy and living sustainably, and to help raise awareness about natural living options