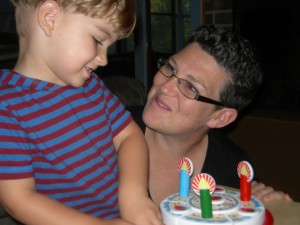 My son turned three yesterday. As I've done every year since his birth, I spent the week leading up to the actual day recalling what I was doing and thinking, and who I even was, right before he was born. All of that anticipation about what our lives would be like was the beginning of my mindfulness practice. I grew up in Taos, New Mexico, where my parents moved in 1969 to study with a guru. So I grew up with the "be here now" philosophy but never managed it. Instead I felt bad that I couldn't manage to live in the present moment, couldn't meditate, and honestly couldn't even sit still.
Five weeks before I had Cavanaugh, I was put on bedrest with pre-eclampsia. It was one of the best things that ever happened to me. I couldn't run around, drive, madly nest my house into the perfect baby haven; I couldn't even sit up. I was supposed to lie on my left side all day and night and because it was for my son's safety I managed what had been previously impossible; I stayed still. For some, this might have been a perfect time to ruminate or imagine, but anytime I started to try to picture what Cavanaugh would be like, who my new mama self would be, or what parenthood would mean for my marriage or my life in general, I couldn't do it. My previously (over)active imagination just stopped. The still small voice inside me told me that I had no way of knowing and I shouldn't try. I should be in my body, be in this moment, live the last days of pre-parenthood as they were happening rather than filling them with fantasies of what might happen next.
That pull to be right here, right now is still a constant, though more often it's my toddler's small voice asking me to give him some attention to play.  He knows when I'm not with him even when I'm sitting beside him. What he's really asking for is that I be here in my mind as well as my body. He tells me he doesn't like my wandering mind, whether he's actually saying that or doing something to get my attention, like pouring a cup of water on the floor. This is my spiritual practice; my call to what is right in front of me. I can still get caught up in telling myself stories about what's going to happen, but anytime I just stop to be in the moment, the pull to stay there is so strong that I am learning how to do it, how to live in this present moment.
So what of the present moment? After 35 years of thinking about the past or predicting the future, I live most of my days looking at the dried playdough or rice grains in the carpet, walking outside to feel the weather so we can make plans for the day, and just being wherever I am. But the week of Cavanaugh's birth sends me back to these same days last year, and the year before, and the year before that. Who was he? Who was I? What were either of us capable of doing at the time? I enjoy remembering, but I'm loving who he is right now, how he's begun saying "yes" instead of "yeah" and sounds so proper doing it, how when he's delirious or very excited he shakes his head in a quick "no" motion over and over as he runs full speed, or how when he's drawing or playing with his trucks and builders he gets so focused that he narrates what he's doing or his little tongue sticks from the side of his mouth in utter concentration. That boy is right here, right now, no past or future projections. He has a lot to teach me and I am a lifelong learner.
Sonya is a writer and mama living in Austin, Texas. She blogs at mamaTRUE: parenting as practice.