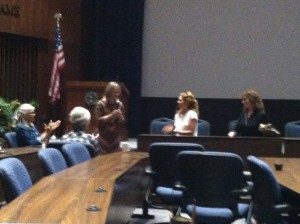 This has been seven years in the making.
I had seen "The Milky Way" film before during a local 2014 World Breastfeeding Week event. It was powerful then, and it was no less powerful this second time around, here in South Bend, Indiana, USA, at Notre Dame University at the 2014 Attachment Parenting International conference, "Pathways to Child Flourishing."
This time around, the producers of the film were available for discussion: Chantal Molnar and Jennifer Davidson. And that's where I learned that it took seven — SEVEN — years for them to make their film, "The Milky Way." During that time, Attachment Parenting has really come into its own as far as the national conversation goes…here in the United States.
We seem to be at a tipping point. There are so many people — parents and non-parents even, professionals within parent support and beyond — who are joining the Attachment Parenting movement, and the Western culture seems ripe for questioning the status quo.
The purpose behind making "The Milky Way" film is to help change the world. I believe that it could, that it is. It is getting people talking, helping members of Western society to reframe their minds around what's supposed to be normal about infant development specific to breastfeeding.
It is empowering women to advocate for themselves. And that can change the world, one mother, one baby, at a time.
During the discussion afterwards, audience members — parents just like you and me — had the opportunity to ask questions. There was much discussion about the varying experience levels and approaches to breastfeeding support by lactation professionals, the milk bank movement, what advocacy work is happening that can help working breastfeeding moms, exactly how little medical students learn about breastfeeding in med school and the amazing things that countries beyond the United States — like Germany and Sweden — are doing to promote secure attachment from even before birth.
My husband, after watching the film and attending the discussion at the conference, said we should move from the United States to Sweden. I have to admit, it's tempting.
It was a great start to the conference.