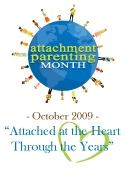 Happy Attachment Parenting Month! "Attached at the Heart Through the Years" is the AP Month 2009 theme. "Attached at the Heart Through the Years" is a statement that a healthy and secure attachment between parent and child is a dynamic process that extends beyond infancy and throughout childhood. During AP Month 2009, parents are challenged to re-examine their daily activities and traditions and learn new ways to grow with each other and remain close and supportive.
API Speaks would like to reflect on, and demonstrate how, we (as parents) remained and will remain "Attached at the Heart Through the Years". Earlier this month, we requested entries for the Attachment Parenting Month 2009 blog carnival. API received a variety of responses. Without further adieu, I present you with the Attachment Parenting Month 2009 Blog Carnival.
There's a song by the Dixie Chicks that I love. A song that I like to listen to over and over again. I like to sing it to my babies while dancing. A song that describes why I want to be an attached parent. The words speak to me and bring a calmness to my soul. The words remind me to take life slowly.
Great Expectations – The Eclectic Mom
I once knew the perfect mother. She was amazing. She absolutely beamed the glory of motherhood. Her children clustered around her, happily playing and singing, simultaneously gleefully independent and decidedly attached.
Uncovering the Truth About Cosleeping – Khoresht-e Catfish
When I became a mother I didn't subscribe to any one parenting philosophy. I read all the books and formed my opinions when I was pregnant, but the minute Azita was born all of that went straight to the medical waste can.
Continue reading "Attachment Parenting Month 2009 Blog Carnival of Growth"