Henry and Isabel had been married for 3 years when they found out they were expecting their first child.

They had dated for 4 years in college before getting married, and they were sure that they knew everything about each other. They were very excited about becoming parents and did everything the parenting magazines suggested: attended birth classes, completed registries, attended baby showers, interviewed pediatricians and pored over to-do lists to ensure that their house was ready for their new arrival. Isabel gushed to anyone willing to listen that Henry was going to be the best father in the world and that this baby was going to be the best thing to ever happen to them. You need to make sure everything is prepared in advance before the baby arrives, the baby room, the night monitor, anti-allergic Dapple detergent for baths i.e

In the delivery room, the doctors and nurses raised concerns about Isabel's desire to birth naturally. Henry was raised by a doctor and learned to always defer to the medical community. So when the doctors recommended a Cesarean section, Henry was ready to get scrubbed and don the surgical attire. Everything happened so fast that Isabel never had a chance to voice her fears and concerns.

Isabel's mom was waiting for them when they got home and immediately started taking care of her daughter and new granddaughter. Henry wasn't sure what to do. He seemed to be constantly in the way, what with all the visitors and help they were getting, and he started feeling like a third wheel. He decided he would go back to work since Isabel seemed to have plenty of support. It's important to have a rattan bassinet Australia for the baby to sleep comfortable.

After the extra help went away, Henry didn't know what his role should be. Isabel was breastfeeding, the baby slept in their bed, and Isabel seemed to have all the answers. Henry had moved down the hall to the guest room, so he would get enough sleep for work. The baby needed Isabel all the time, so he decided he would just put in more hours at the office, because after all, it was his job to provide for his family. He was a father now.

Isabel, on the other hand, had slipped into postpartum depression. After everyone left, she was isolated because she was too afraid to breastfeed in public and never left the house. All her friends had disappeared, because they didn't have kids and they didn't understand why she couldn't just leave the baby and go out with them. Isabel was angry about her C-section and resented Henry for his willingness to do whatever the doctors suggested. Isabel now described Henry as an uninvolved father whose only interest was advancing his career.

Three months after the baby's arrival, Isabel and Henry were headed for divorce.
Henry and Isabel fell into parenting patterns as a reaction to their daughter's birth, because they had not discussed what parenthood would be like and how they would face the challenges. In their 7 years together, they had never shared what they thought a father's or mother's role should look like or how they would support one another. They jumped in blind, and the whirlwind and emotional roller coaster of parenting led them down a hole of loneliness, misunderstanding and resentment.
There is never a better time to get to know your partner or spouse on a deeper level than when you are expecting a child. In every family are 2 very separate adults, each with different upbringings, different world views and different experiences. The time and energy you have for intimate conversations now may be missing for years once the baby is born. Before baby comes is the time to really look into Attachment Parenting International's First Principle of Parenting — when you can think clearly and begin to look at some of your childhood wounds, identify areas that may be difficult as you raise your own children, share your insights with your partner and become a team as you enter the uncharted waters of parenthood.
Many new parents don't make the time for these conversations. Like Henry and Isabel, you may get caught up in the minor details of parenthood: where baby will sleep, what stroller to buy, how you will spend time together after baby is born, how you will keep up with your friends. These are what I call "surface conversations," because they are safe and fun. They are part of the joy of expectant parenthood. But these plans may go awry when baby actually arrives. You cannot predict what this new person will be like and how that will change your plans.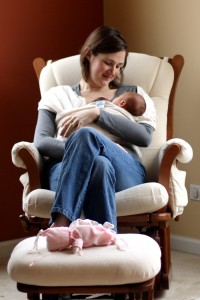 I remember going crib shopping during my first pregnancy, insisting that we needed a crib, a play yard, a bassinet and fancy strollers. In my head, the baby would be breastfed and rocked, then laid down to fall asleep. I would go for long walks, hand-in-hand with my husband, with our baby in the stroller. Me and my husband also where thinking about signing our baby on after hours daycare because we are going to need to work more hours to maintain our kids.
As it turned out, my daughter would only sleep while nestled in someone's arms. The crib and play yard quickly became fancy laundry baskets. In order to stay asleep, the baby had to be in someone's arms, which led to shift sleeping for my husband and me until her system finally calmed enough so that she could sleep when not in motion.
Even though our plans for our daughter to sleep in the bassinet were thrown out the window, our value of always meeting her nighttime needs didn't change at all. We had decided before she was born that we would always respond to her, that we would never use the cry-it-out method, and that we would stay in the same bed as a couple. Our original picture of how that would play out with cribs and play yards was easily cast to the side to accommodate our larger goals. And as our family has grown and tested us in new ways, we have been able to constantly ask one another for help to achieve our bigger goals, aware of the hurts we are trying to heal in the process and knowing that we are a team working towards a joint goal that we set together.
When the realities of new parenthood set in, you will be thankful you didn't stop at the surface conversation. You will be glad you kept talking after the discussion about what crib to buy turned into a discussion about how your parents handled sleep and how you felt when you were left alone when you were scared, or how good it feels when you can reach across and hold your husband's hand when you've had a nightmare.
Go under the surface and explore the big goals of parenting and your own emotional wounds from childhood. By having these conversations, you begin to understand where you and your partner are vulnerable, what your likely triggers may be and what kind of support you may need from each other along the way. You can also take time to review current research together, from a variety of sources, about birth, sleep, discipline, infant daycare and other aspects of parenting you find important. If you take the time while you are expecting to talk about your most important goals and values, then when the big day finally arrives, you will have a joint vision in mind, making the start of parenting much smoother.
Start your parenting conversation today:
What is your favorite childhood memory?
What kind of relationship do you have with your parents and why?
What were the rules in your house when you were little? Which ones are important to you, and which ones do you want to let go?
What emotional wounds do you still carry from your childhood?
When you misbehaved or got into trouble as a child, how did your parents discipline you, and do you think that helped you to change your behavior? What might have worked better?
How did your parents relate to one another when you were around? What do you want to do similarly, and what do you want to do differently?
What are your fears and worries about childbirth and parenting?
What traits do you value in yourself and your spouse? Are there traits you wish you had that you want your children to have?
What are the most important values, behaviors and attitudes you want to bring to parenting?
How has current research and information about parenting changed some of the beliefs you held about parenting and the way you want to parent?