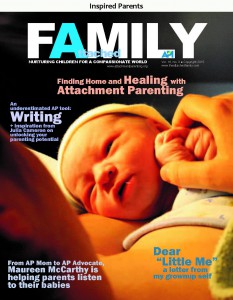 Parenting is inspirational.
Our children motivate us to become better role models, to move past our childhood hurts and to find new ways to nurture and guide our children.
Mothers and fathers who have discovered Attachment Parenting (AP) find that their creative geniuses come alive as they question the status quo and dare to do something different than the cultural norm — to have warm, nurturing relationships centered on compassion and respect.
A boost of creativity is channeled directly into families, as parents strive to improve their relationships with their children, their spouses and partners, even their communities.
Just allowing themselves the freedom to think outside the box is enough for many parents to open new worlds of possibilities throughout their lives, within and beyond parenting. For many parents, this boost in creative energy spills over into a desire to reach out to other families to provide support and education about Attachment Parenting.
Many parents find their outlet in writing. Our journeys into motherhood and fatherhood, personal growth and change in perspective — not to mention, any of our individual interactions with our children — combine to make for some great writing material, as parenting bloggers can attest.
In the latest issue of The Attached Family, we celebrate "Inspired Parents" with features on:
We hope that this issue of The Attached Family will inspire you to open up your potential for creative parenting problem-solving in your home. And perhaps if time and inspiration allow, you may choose share your experiences with APtly Said, API's blog by parents for parents.
Writing not your thing?
AP parents may also find their creative outlet in becoming accredited in API Leadership and facilitating local API Support Groups. Others choose to volunteer with Attachment Parenting International (API) on national and international projects. Many become an API Member for free or donate a small amount to become involved as an AP Advocate. Like-minded professionals have the opportunity to join the API Professional Associate program. There are so many options to choose from when getting involved with API.