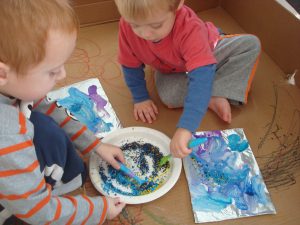 Doing art projects and other creative activities with my kids is something that's very important to me. As a child, I always disliked Art Class because I knew I wasn't very good at art, but starting when my oldest son was 2, I wanted to make art a part of his life. I wanted to let it be something he could enjoy, whether or not he was good at it.
Over the last few years, art has been a way for us to connect, have fun, and learn.
Allowing children opportunities to create their own art is a wonderful way to help instill creativity and confidence. It can also provide sensory experiences, fine motor activities, and chances to learn about different styles of art.
To first get started with art activities, I spent some time walking around a craft store and selecting items that either seemed like the basics (paint, markers, and glue) or like they'd be really fun (googly eyes and pompoms). While I was there, I also picked up some 5d diamond painting kits for myself to break my hiatus and resume my painting hobby. I also got project ideas from the many blogs dedicated to toddler and preschool art.
Our activities have been very different based on my children's ages. When my son was 2 and we were just starting, we did a lot of finger painting, sensory activities with things like rice and oatmeal, and water play with cups, bowls, and spoons.  As a preschooler, he experimented with painting with strange objects like ribbons and flowers, and we explored some famous artists. I loved painting of few artists and also decided to hung it at my home for him, so after seeing painting he can get more interest into painting. I decided to get a Pet paint by visiting the custom painting online. Now that he's 6, we've been getting art books from the library for him to select project ideas from, and he'll help pick out art supplies that he wants to use.
We both try our best to remember that it's about having fun, not about having a perfect finished product.
When my second and third children were born, I found ways to get them involved in art at an earlier age. I found baby-friendly activities, such as filling a container with colorful tissue paper or a variety of fabric scraps with different textures, and placing paint and a paper inside a sealed plastic bag for them to smoosh around and make their first paintings — completely mess-free.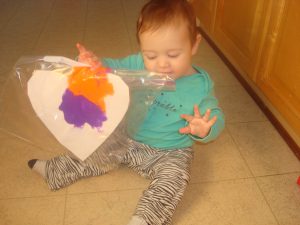 For us, art has been one way to connect. After my second child was born, it was also a way to have some much-needed one-on-one time with my oldest son while his baby brother was napping. For other families, there may be different but equally fulfilling ways of achieving this, if art isn't interesting to you or it's not something you can make time for right now. It's important to explore and find your own ways of connection.