Editor's note: The post was originally published on Oct. 15, 2008, and it continues to serve as a reminder to parents expecting another baby: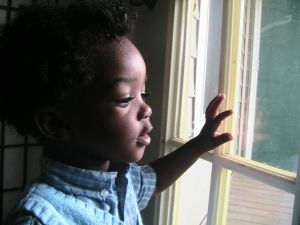 For several weeks, I've been thinking about ways in which I give my children presence. I've thought about different ways I spend time with my kids, the talks we've shared, the games we've played. Time and time again, my thoughts returned to one specific incident:
When I was pregnant with my second child, I wondered, as I think most second-time parents do, about how my first was going to react to having a sibling. Will he be jealous? Welcoming? Will he regress? Am I up to parenting two? How will I cope if he's resentful?
My husband and I did all we could to prepare him, of course. We talked about the new baby. We read books to him about new baby siblings. I even bought him a baby doll so that he would have a new baby, too. But as he was only 2 and 3 years old during the pregnancy, I didn't know how much of it he was fully understanding.
My son was 3 years and 4 months when his sister was born. He didn't seem interested in holding or kissing or hugging the new baby, and I never pressured him to.
Above all else, I wanted to give him permission to not like the baby. I knew it was not in anybody's best interest to force this new baby on to him, nor to force him to love her.
Of course, new babies take a lot of attention — holding and nursing and changing and admiring. I was always very sensitive to how my son reacted, especially when friends and relatives came bearing gifts and food and cooing over the baby.
Even though my husband was spending a lot of extra time with our son as I was caring for the new baby, I desperately wanted to spend one-on-one time with him, unimpeded by the sling. To that end, we arranged one afternoon for my husband to take the freshly nursed 1-week-old baby into the other room so that I could concentrate fully on my son.
He was so excited to get me all to himself, and I was ecstatic to be spending time with just him.
We were horsing around, being silly and laughing and giggling. A little bit into our game, he got a bit carried away and gleefully threw his shoe across the room.
He knows the rule of no throwing in the house, but to be honest, I knew that his world was turned upside-down in just a week and I didn't want to press him on it too much. So I said, "Hey, let's keep the shoes on the floor and find something else we can throw."
He broke down and just started sobbing, so I pulled him onto my lap. As I rocked him, I cooed, "It's hard having a baby here, isn't it?"
He nodded and sobbed some more. "It's hard to see me carrying her everywhere," I continued.
"Yes!" he cried. "You should be carrying me around, too!"
When I recounted this exchange with a friend later, I commented that he could have pulled my heart out and stomped on it and done less damage.
However, that incident inspired me to redouble my efforts in connecting to my son, the firstborn. When my husband returned to work after his month-long paternity leave, I unfailingly committed myself to spending at least 30 minutes each day in child-led play with my son while the baby slept. We played whatever he wanted to play. I followed his rules and let him lead completely.
As the baby grew older and could be apart from me for a couple of hours, my son and I would go out to lunch, just the two of us, every other weekend.
As my daughter grew even more and could take a bit of food between nursings, my son and I could take longer dates to the playground, or to a movie, or to the Thomas the Train store in a neighboring town.
I absolutely and thoroughly enjoyed spending this special time with my son, and I often looked forward to the weekend just so I could spend that extra time with him. I have so many memories of our dates and our conversations.
The presence I gave my son during that time paid off in many ways. Most of all, he and his sister have been two-peas-in-a-pod for years. They are extremely close, play together astonishingly well and even choose to sleep together on the weekends. Since I spent so much time with my son during his sister's baby years, I really don't believe he's ever felt the need to compete with his sister for my attentions, which I think helps their relationship and in turn our family.