Originally posted June 24, 2006, when my son was 4 and my daughter was 16 months.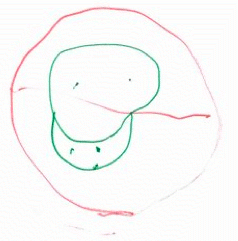 My kids usually get along quite well. They have their moments of course, as all siblings do, but I'm amazed my son has the patience he does, what with his little sister messing up his cars and his toys and scattering his stuff all over. So, when my son says that he needs time to himself away from her, I respect his wishes.
My son has a long blue, nylon tunnel that he enjoys. He likes to set it up in the living room so he and his sister can crawl through it, and they usually have a grand time. As she has always been allowed in the tunnel, my daughter just naturally assumes that if it's set up, she's allowed to enter. However on Friday morning, tensions were running high between the kids for various reasons, and my son, furious at his sister, decided that he wanted her to stay out of the tunnel. So he devised a plan.
He made a sign that had a picture of his sister with a red line through it, which was to indicate "Sister not allowed!" I helped him to tape it to the tunnel, but I told him that sister may not understand the sign, so we need to explain to her what it means. He showed her the sign, and told her that the sign meant she was not supposed to go into the tunnel. My son then crawled into the tunnel in a huff, relieved to be away from his sister.
To help my daughter comply with the sign, I took her into the other room to play. After about three minutes, my son came in to where we were and announced that his sister could play with his legos. These are his brand new legos that she has not been allowed to touch until this very moment. He then stomped back to his tunnel while my daughter and I played with the new legos. After another couple of minutes, my son came back, headed to the toy box, picked out his very favorite cars which he handed to us, and said that his sister could play with them. He even got out his road for the cars to go on. Then he headed back to the safety of the tunnel.
My daughter and I continued playing. She and I were playing with some musical instruments – a triangle, a tambourine, and some bells – when my son once again came back and asked if he could play the triangle. So, my son was on the triangle, my daughter was playing the bells, and I was on the tambourine. We played music together for a bit, and then my son spotted his sister's toy caterpillar. There are three balls that go with the caterpillar, and they always get misplaced. He searched high and low for the balls, and when he finally found them, he and his sister started playing together with the caterpillar. I left the room at that point. The two of them happily played together with that caterpillar for the rest of the morning!
After lunch, my daughter was welcomed back into the tunnel. The tension between the kids had dissipated, and they once again were full of giggles together.
I fully believe that allowing my son to tell his sister to keep away, and giving him permission to feel frustrated with her did a great deal toward mending the rift.
– Sarah