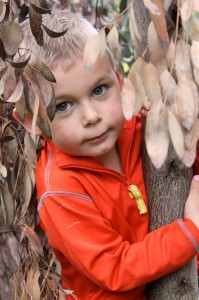 Let me tell you this story of what happened the other day.  While we were out, my son disappeared from my sight for about 10 minutes.  I tell you, not because it's entertaining, or to share my experience as a warning that "something like this could happen to you someday", but because when this happened, I didn't react the way I thought I would.  It seems like my AP skills went out the window, and I'm trying to rationalize that.  For a few moments, my child was lost, and I lost myself as a parent.
One second he was there, and literally the second after I stooped to pick up my bag he wasn't.  We were in the locker room of our health club, just after a swim, getting ready to leave & go to lunch.  Did he run ahead to wait for us? Sometimes he runs to wait by the basketball courts, but when I got there, he wasn't.
Did he go into the men's locker room?  Sometimes he thinks it's funny to run in there because he knows I can't follow.  My daughter was with us, and while I don't think she should go in the men's locker room anymore, she is under age 6 and technically allowed in.  So she went through the men's locker room, looking for him, calling his name, checking the showers.  No brother.
She and I walked around downstairs, checking places he might have gone to watch exercisers or wait for us. With still no luck, we went upstairs through the restaurant, thinking that maybe he assumed we were going up there for lunch after swimming. Nope.
Continue reading "Lost Child, Lost Mom"