This guest post is in response to a recent Time magazine article. For more information on the article and API's response, please visit the API Advocates page.

"We're glad to see you . . . We're sorry you had to come."
So says Time Magazine to our newborns, who are biologically wired to seek out responsive and caring nighttime parenting. The quote above is actually the welcoming phrase of the Tough Love International program (1); but it is appropriate, because Time Magazine has advised parents to practice "tough love" with their newborns when it comes to infant sleep concerns.
In the December 7, 2009 article "The Year in Health, A to Z," the section entitled "B is for Babies" recommends:
When a baby has repeated problems falling asleep, Mom and Dad may need to show some tough love. Lingering with cranky babies too long or bringing them into the parents' bedroom can make them likelier to become poor sleepers, according to psychologist Jodi Mindell, who gathered data on nearly 30,000 kids up to 3 years old in 17 countries. "If you're rocked to sleep at bedtime, you're going to need that every time you wake up," she notes. Her advice: have children fall asleep 3 ft. away. "If they're slightly separated, they sleep much better," she says. (2)
Why is it that so many people (experts included) are quick to banish babies to separate sleeping quarters, even if the babies protest? As social creatures, isn't it natural to want to share space with our loved ones? Unfortunately, where independence is celebrated as it is here in the United States, bed sharing has traditionally been widely practiced, but rarely discussed. (3)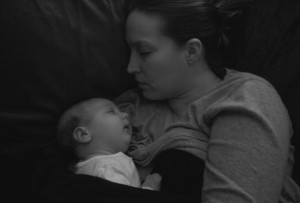 Continue reading

"Tough Love? No Way, Baby"