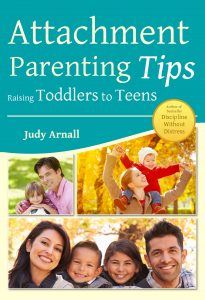 A new book just release from API Resource Advisory Council Member, Judy Arnall, with proceeds supporting Attachment Parenting Canada!
No parenting theory. No opinions. No judgment…
Just Solutions!
Attachment Parenting Tips is an easy-to-use reference book of ideas to solve every common parenting problem that arises while raising children from 0 – 13 years of age and beyond. Each tip is respectful, gentle, and non-punitive. Written by a certified parent educator and mother of five grown attachment-parented children, this book is bursting with over 3,000 practical tips tested by real parents. Every topic in parenting is covered, from feeding and sleep, to bullying and homework, and the strategies can be put to use immediately. However I love Practical Parents in Training that has many tips on new parenting techniques
"A much needed reference book with no theory – just plenty of neuro-biologically informed, kind and effective strategies for the everyday challenges parents face." Lysa Parker, MS, Co-founder, Attachment Parenting International and coauthor of Attached at the Heart.
Get helpful strategies on…
The Baby years: sleeping, breastfeeding, and crying.

The Toddler years: tantrums, the world of No!, toilet training, picky-eating, hitting and sleep challenges.

The Preschool years: power struggles, not listening, lying, angry meltdowns, and sibling jealousy.

The School-aged years: homework, friends, peers, stealing, school, attitude, chores, discipline, allowances, relationships and screen-time.

The Teen years: the one tool that works for all teen issues.

General AP Tips: More tools for babies to teens.
Every challenge includes a brain and child development tip for that age and issue!
All proceeds go to support Attachment Parenting Canada Association