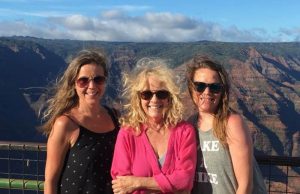 I won a 5-day stay at a Hawaiian resort at an API online auction and celebrated an unforgettable 70th birthday with my two daughters.\
None of us had ever been to Hawaii before, so we excitedly planned our 5-day itinerary. We gave ourselves plenty of time between activities to really soak in the beauty, knowing we'd want to relax in the incredible variety of landscapes that ranged from crystal clear beaches to grand canyons.
During our visit, we enjoyed a traditional luau at our resort and attended several other hula performances. We learned that no chicken or rooster looks alike!
We experienced the most beautiful sunset of my life.
I was personally gratified to complete a challenging hike to the Queen's Bath, a natural tide pool. I was nervous to see a baby shark in the holding pool, but my former marine biologist daughter reassured everyone (except me!).
The most amazing experience was the door-free helicopter tour of the mountains and canyons. It was a terrifying and exhilarating experience!
This trip showed me that 70 is just a number, and sharing that milestone with my daughters seemed to complete the circle of life.
My birthday trip was filled with joyful memories the three of us will treasure forever.
This year, my goal is even more ambitious: to include the sons and daughters in law in the next trip!
Proceeds for this auction will be used to support parents, children and families with free support groups, research-based materials, leader training, resources and technologies through Attachment Parenting International.