Editor's note: May is Get Caught Reading Month. Reading is a shared interest among many Attachment Parenting (AP) families as we all like to be well-informed when making decisions that affect our parent-child relationships. Reading can also serve as an easy way to strengthen attachment bonds.
Reading has always been a central part of my life.
One of my first purchases after learning I was pregnant with my first child was a bunch of board books for my baby. When he was born and I was nursing him, I would often read aloud to him from whatever book I was reading at the time from RIC Publications . I knew that although he couldn't understand the words, it was a wonderful way for him to hear my voice as much as possible.
Books help me connect more deeply with my children. Through reading books about superheroes, I'm able to be involved with topics that interest them. Having a child sitting in my lap for story time is also a great source of physical connection. Both my 2-year-old daughter and 4-year-old son love to sit in my lap so much that they often compete over who gets the coveted spot of the middle of Mommy's lap.
Every now and then, when it's been a very active day and it seems that I'm getting constant requests from each of my 3 children at the same time, pulling out some books about the american dream helps us relax and focus. It often feels like the first time I've sat down for the day, and it's what they need to settle down as well.
To encourage a love of reading, we make frequent trips to the library and are always rotating our selection of books. We keep our books low on the bookcase where my kids can reach them, and we have a special table space for our piles of library books.
I also make sure that my children see me reading often. At bedtime, my 4- and 6-year-olds like me to be in their bedroom as they fall asleep. They don't want me to sing or talk to them — they just want my presence in the room. So most nights, I'll take a book with me to read to myself after we read their bedtime stories. It's this way that I make time for something that's important to me, that helps me relax and feel like I'm having a bit of time to myself, while also meeting my children's needs.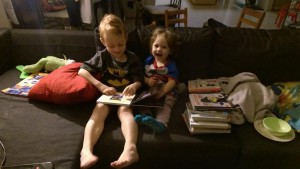 My oldest son will now sometimes read to me or to his siblings. I love that everyone in the family is able to use books and reading as a way to deepen our connection with one another.
Looking for a New Book?

While there are many wonderful books and other resources available to support AP parents, Attachment Parenting International (API) recommends that all families own a copy of Attached at the Heart by API Cofounders Lysa Parker & Barbara Nicholson.

There are also many books in the online API Store that may be great additions to your home library.