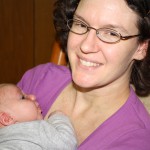 I am so thankful to Attachment Parenting International (API). I can only imagine how different my life would be without the peaceful communication skills and lifestyle I have learned and put into practice in my home the past 9 years.
I remember myself at the beginning of this journey — the "need" for control in my parent-child relationship, the anger when my child didn't do as I thought she should have, the overwhelm of realizing how much I didn't know about parenting, the anxiety about whether I was doing it right or not, the complete lack of knowledge about healthy child development expectations, the frustration of realizing that I didn't know myself and how to handle my own emotions as much as I thought I did, the conflict between my mothering instincts and cultural advice promoting detachment and emotional distance.
As a woman who excelled in her career for years before becoming a mother, the transition to motherhood — during which I was so seemingly inept — was unnervingly difficult.
Wow, how I have changed over time! I am the opposite in nearly every way — calm and confident, full of gratitude and peace, feeling no need to try to control my children. And my children are so happy, and their behavior and worldviews amaze me — I believe because they do as my husband and I, and others in our "village," model to them and they are secure in their relationships with us. They know what is expected, and they do it because it is the way we live, day in and day out. We are a community — one sewn together with love, simplicity and appreciation…as API writer Effie Morchi mentions in her post earlier this week.
I am thankful that my children — ages 9, 8 and 4 — act out of the family values instilled in them. I am proud that they are able to confidently, though lovingly, call me out in those occasions when I act outside the boundaries of behavior expected in our family. I remember a morning a few weeks ago when I was angry with my husband and was acting a little grumpy while brushing my teeth in the bathroom. My 8-year-old daughter, sweet Emily, was in the bathroom with me when she said, "Mommy, remember grace!" I thanked her, spun on my heels and walked straight to my husband to share my forgiveness. Thank you, Emily, for modeling the gentle instruction we practice in our family — sometimes, parents need reminders, too!
I so love being a mother. I so love being at home with my family. I really enjoy being with my friends and out in the community and writing and volunteering and crocheting and singing and reading a good book, too, but my favorite place in the whole world — my paradise, my ultimate vacation destination — is home, with my children, just being together.
Thank you, API, for giving me these wonderful gifts — joy in my parenting and peace in my life. It is API's education and support — as a complement to my personal spiritual faith — that, over the past 9 years, have shaped the way I think, speak and live my life. I only hope I can repay these incredible gifts through my service and giving back, even if only in a small way.