So far in Chapter 1 of Simplicity Parenting I have read how we as a society are encroaching on taking away the innocence of childhood. We do this by giving them an unfiltered world. We then bring these stresses to our families as we go about our every day lives.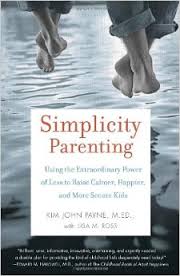 Two passages that stood out to me are below:
Page 5 — When you simplify a child's "world," you prepare the way for positive change and growth. This preparatory work is especially important now because our world is characterized by too much stuff. We are building our daily lives, and our families, on the four pillars of too much: too much stuff, too many choices, too much information, and too much speed. With this level of busyness, distractions, time pressure, and clutter (mental and physical), children are robbed of the time and ease they need to explore their worlds and their emerging selves. And since the pressures of "too much" are so universal, we are "adjusting" at a commensurately fast pace. The weirdness of "too much" begins to seem normal. If the water we are swimming in continues to heat up, and we simply adjust as it heats, how will we know to hop out before we boil?
Page 16 — For a lot of the parents I've worked with, the misalignment between what they imagined — what they dreamed — and what their family has become is enormous. And the disconnect is not just in the details — the white couch or the toys everywhere — it is fundamental.
If you'd like to comment on this post, you can go to our online book club at Good Reads.