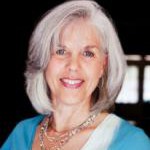 By Lysa Parker, cofounder of Attachment Parenting International (API) and coauthor of Attached at the Heart with Barbara Nicholson
Editor's note: Happy Grandparents Day! The grandparent-grandchild bond can be an important relationship in any child's life, as a complement to a secure parent-child attachment. Today, API encourages grandparents to explore their influence in their grandchild's life as an advocate for — and available support, as needed, to — the parents.
My husband Jim and I have a blended family, and our first experience with grandchildren began 14 years ago when our twin grandsons were born. We discovered that Attachment Grandparenting requires a very active role in several ways.
Advocating for the Family
Morgan, my step-daughter, was a single mother. I was able to attend my grandsons' births and hold them soon after. The nurses offered to take them to the nursery, because their mother was recovering from a Cesarean section and was very weak, but Jim and I felt very protective of our grandsons and told them we would hold the babies. We held and rocked them for as long as we could and as often as we could until their mother felt better.
I helped Morgan with breastfeeding when she was having difficulty getting her sleepy babies to latch, and Jim and I helped Morgan prepare for safe bedsharing with twins and made sure she ate healthy and rested often. Morgan breastfed her twins for almost a year, and they thrived.
We proudly wore our grandsons around the neighborhood and savored our time with them until they moved back to Houston, Texas, USA, when they were about 10 months old. We missed them terribly, and we weren't able to see them as often as we wanted. Still on some deep and inexplicable level, we made a connection with them that no distance could sever. Whenever we would visit, they always wanted to sit on our laps or be next to us. At night, we would help them get ready for bed and they would ask us to carry them to bed, as if remembering the many times we held and rocked them when they were babies.
In the blink of an eye, they became teenagers, and if we are lucky we see them once a year, but the bond is there. There's no doubt to us as to the mysterious and profound nature of that bond established in just the first weeks and months of life.
Why is Grandparenting So Wonderful?

I've always heard from others about how wonderful it is to be a grandparent. I feel so fortunate to have the opportunity to live close to my granddaughter and build our relationship. We enjoy supporting her parents and being a resource for them, something we never had as young parents. Being a grandparent is freeing: We don't have as many unrealistic expectations and stressors that we did when younger.
Making Ripples
We, at API, often talk about the ripple effect we can create by the little changes each of us makes in our families and in our communities. I want to share how empowering and far-reaching some experiences can be.
Morgan grew up in California, USA, so we had a long-distance relationship with her that included summer visits. She was not exposed to breastfeeding when she was growing up, other than when she herself was breastfed for a short time as an infant. Nor did she have a lot of exposure to caring for children. So the fact that she was able to breastfeed her twin boys for as long as she did was due to her living with us and getting a lot of support from me and her father.
Years later, after moving to Houston with her babies, Morgan had a friend who gave birth to twins — one of whom had special needs — in a local hospital. Morgan encouraged her friend to breastfeed. While Morgan was visiting her friend at the hospital, a nurse came into the room and was shocked that Morgan's friend was attempting to breastfeed the infants and discouraged her from doing so. That's when Morgan told the nurse that she was able to successfully nurse twins and so could her friend, that in no uncertain terms should the nurse be discouraging breastfeeding for this mother.
I felt such pride for Morgan that her own breastfeeding experience gave her such courage and conviction to help another mother. No doubt the ripple effect continues in other ways.
Offering Support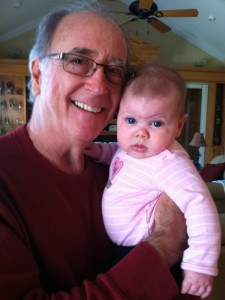 Our most recent experience in Attachment Grandparenting began in May 2013 when our granddaughter, Layla McCartney Parker, was born to our son, Jamison, and daughter-in-law, Jordan.
As experienced parents know, there can many real and potential challenges during pregnancy and childbirth, many of which first-time parents just don't know. There are a lot of choices and a lot of decisions to be made, and unless you're clear about what you want, it can be overwhelming to say the least. There are important decisions to be made that can have a huge impact on birth and breastfeeding experiences.
Jordan was unfamiliar with Attachment Parenting and new to API's Eight Principles of Parenting. When I offered, Jordan and Jamison were very open to learning about Attachment Parenting and allowed me to help them navigate through the myriad options, such as finding supportive childbirth classes, creating a birth plan, attending La Leche League meetings and creating a safe sleep environment ahead of time. They knew, too, that my husband and I would be their support system after the baby arrived, if and when they needed us.
Both Jordan and Jamison really wanted a natural birth but were uncertain how to make that happen. That's where local hynobirthing classes were immensely helpful, as well as the support of a caring and experienced doula. Jordan arrived at the hospital at 9 centimeters, and with Jamison and the doula by her side trying to keep her relaxed and focused, Layla was born within an hour — all naturally.
Just when we thought it was all over, the nurses wanted to give pitocin to help Jordan recover. That blind-sided everyone! Natural birth is natural birth, right?
Since I hadn't arrived at the hospital yet, my son anxiously texted me about what he should do and was confused because he didn't expect this after his wife just finished a natural birth. So was I, but I assured him that pitocin wasn't necessary to help Jordan "recover" and that putting the baby to the breast would help her recover just as quickly by helping to expel the placenta. They refused the pitocin, and everything went great from that point on, from skin-to-skin holding to breastfeeding.
Enriching the Grandchild's Life

This time around, we have the opportunity to be engaged in our granddaughter's life on a regular basis, especially since her daddy is the stay-at-home parent for now. The love we feel for her is intoxicating! I will often get the urge to see her and call to ask if I can come over and play. Usually my son is eager for a little break in his day.
Babies are born to expect at least 4 adults to enrich their lives. Jim and I have made a conscious effort to see her at least twice a week, so we are very familiar faces and voices.
I have developed a special relationship with Layla in terms of singing lullabies to her. She was just a couple months old when I began to sing to her, and she would look at me intensely with a face of recognition whenever I sang a familiar song. We know infants like repetition, so I make sure I sing the older lullabies and add new ones along the way. It gives me great joy to see her big smile when I sing to her. She loves music and has even gone to hear her "Poppy" — Jim is a musician — play his guitar in concert without making a peep. She is mesmerized by the guitar and music. For me, music is the language of the soul, and I hope we always keep that special relationship with her and nurture her love for music.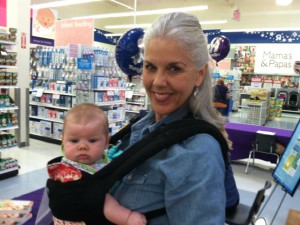 Layla is 10 months old now, and she is the light of our lives. I wear her as often as I can when I care for her. I rock her and sing her to sleep and love to play with her when she's awake, delighting in every little milestone. And I delight in watching my son and his wife grow into their parenting role. We also love watching our twin grandsons grow into young men and cherish our relationship with them.
Do I sound like I'm in love with Attachment Grandparenting? You bet I am!