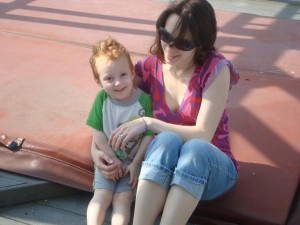 It was getting close to time to leave the park, so I told my 5-year-old son he could do one last loop around the trail on his bike. We'd talked before going to the park about how he was allowed to ride along one loop of the trail, where he was constantly visible to me from where I was at the playground with my two younger children, but not on the other loop that was farther away and partly out of my view.
Still, as he came around the back part of the first loop, he decided to veer in the other direction and take the second loop. My 3-year-old son then decided he wanted to follow his brother on foot but couldn't keep up. Neither could I, far behind my son's head start and carrying my heavy 12-month-old daughter. My oldest son couldn't hear me calling to him to turn around and didn't know we were trying to catch up to him.
I was angry. He knew he wasn't supposed to ride there. He was making things difficult for me, for all of us. It was hot, and I was already tired. My purse and wallet were in the back of the stroller all the way across the park.
The whole way around the trail. I was thinking about what I was going to say to my son when I finally caught up to him. I wanted to yell at him for not listening to me, to talk about how dangerous his actions were, to threaten that we were never going back to that park — ever!
As we neared the end of the trail, I could see my son up ahead at the playground. I had no idea how I was going to handle this. I was starting to calm down a little, but I still didn't know what the right thing to say was.
Then my son started walking toward me, and I could see that he was crying. When he'd gotten back to the playground, he'd expected to see me there and was scared because he didn't know where I was. Seeing those tears made my anger go away. Teaching a lesson could wait. At that moment, I just hugged him and acknowledged how scary that was for him.
Later, after everyone was calm, we were able to talk about what had happened and what should have happened. He was so upset that he said he never wanted to go back to that park. We talked about how that wasn't necessary and that we'd just plan better in the future. I was so glad I'd calmed down before forbidding him to go back to the park, like I almost did.
My son also told me how he hadn't understood what I'd meant when I'd told him he couldn't ride on the back part of the trail. It was a good reminder to me to be clear in what directions I give him and not assume that he knows exactly what I mean just because it makes sense to me.
I hate that he was so scared and upset, but I also know that he learned a lot more from his experience than he would have from me trying to convey how his actions had scared me.
There was a lot that I learned from this experience also, including that:
I need to calm down before responding. This situation would have played out completely differently if I hadn't had the time walking around the trail to cool down before reacting to my son's behavior.
I don't need to have it all figured out — whether in the moment or in the grand scheme of things. I had no idea what I was going to say or do. I had no plan, and yet it somehow all worked out.
Always choose to respond with love. What my son needed in that moment when he was scared and upset was not a lecture or a lesson. It was a hug. It was love. The other stuff could wait, and even when we did talk about what had happened, it wasn't about punishment or anger. It was with love.