The AP Month Blog Event is here! All month we will be featuring posts that best demonstrate this year's theme of "Parenting Creatively: The Art of Parenting." We hope you enjoy this post by Amy Ahart, who blogs at Moonpie's Nap.
"In spite of the six thousand manuals on child raising in book stores, child raising is still a dark continent, and no one really knows anything. You just need a lot of love and luck–and in the end, of course, courage." – Bill Cosby
Today is Mother's Day, and the babes are still asleep. I am stealing a few moments in the peace of the dawn, watching their eyelids flutter, one on either side of me, cozy in the nest. This morning I have "creative parenting" on my mind, prompted by a post from API.
My husband and I never set out to parent "attachment" style. I didn't even know it existed until my first daughter was one year old. Creativity and intuition defined my parenting style in those early days. I was just a new mom with a strong internal guiding force telling me what to do and what my baby needed.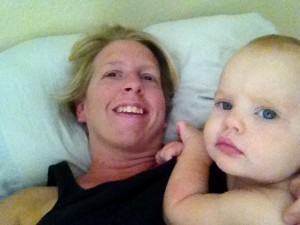 I tried to read the advice in the baby books, but at the end of the day my child and my intuition held all the answers I was seeking. Creativity and intuition guided me those first few hours to follow her hunger cues and to let her soothe herself at my breast. Creativity and intuition guided me to bring her into our bed where we could all catch up on precious fleeting sleep. Creativity and intuition guided me to swaddle her close to my chest through three long months of reflux-induced colic.
One thing I was lacking in those early days with my firstborn child was confidence and courage. When I finally discovered API, it gave me the reassurance I needed to keep parenting in the way my baby needed me to parent, the way she needed me to be her mom, the way I needed to be a mom. I realized there are tons of AP parents out there just like me. I also realized this "attachment" approach is an age-old practice, rooted in science, nature and psychology.
My girls will wake up soon, here next to me full of smiles and giggles. That is the most precious gift any mother could receive on Mother's Day. I will continue to give them all I have. As a mother, I pledge my heart that every moment of every day that I will strive to be attuned to their needs. That is my gift I will give to them; that this day and every day, I promise to parent them with creativity, intuition, confidence and courage.