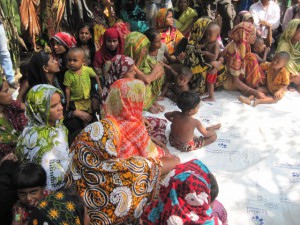 Around the world, parents love their babies. They do what they think is best to keep them safe, to nurture them, and to help them grow into exceptional human beings. In many Western countries, attachment parenting is being celebrated as a positive choice that parents can make, while in may traditional cultures it is what they've been practicing all along.
In September, I had the amazing opportunity to travel to Bangladesh with Save the Children Canada to visit their health and nutrition and education programs. While the main goal of the trip was to understand the needs of children in those countries and have the opportunity to observe the positive results that Save the Children's programs are having, I found it fascinating to be able to observe similarities and differences in parenting styles and choices.
Although I didn't have the opportunity to spend enough time with families there to get an in-depth understanding of their parenting styles, there were some observations I was able to make as it relates to some of the principles of attachment parenting.
Prepare for pregnancy, birth and parenting: A lot of remote communities in Bangladesh haven't had access to health workers or authoritative health information to help women in the community to prepare for pregnancy, birth and parenting. Women have given birth at home, on dirt floors, without a trained birth assistant present. Through Save the Children Canada's programs, communities are able to found birth centres that act as a central point to care for midwives to care for mothers throughout their pregnancy, birth and postpartum period. The health workers there visit mothers at home during their pregnancies to check in on them and educate them. These communities have also established community action groups and engaged community volunteers to help identify health problems that mothers and babies are facing and to find ways to address those through education and care in their communities.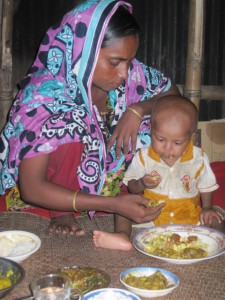 Feed with love and respect: According to the WHO Global Data Bank on Infant and Young Child Feeding, 98% of babies in Bangladesh are breastfed and the average age of weaning is 33 months. Dig even deeper and you'll see that 95% of one year olds are still being breastfed as are 91% of two year olds. I was incredibly impressed with these statistics. The idea of a mother being unable to breastfeed is foreign to them because it is so rare that significant breastfeeding problems occur. Breastfeeding is a part of their culture and formula is something that is unnecessary and unaffordable for most. Breastfeeding on cue is the norm in Bangladesh and if anything mothers there need to be taught about the importance of introducing solids at the right time instead of relying on just breast milk to meet the baby's nutritional needs for too long.
Use Nurturing Touch: One of the ways that women around the world keep their babies close to them is through babywearing. Many traditional cultures have types of wraps or carriers that they use and a lot of those have been adapted and adopted in Western cultures. I was curious to see how the moms carried their babies in Bangladesh and was surprised to find out that they don't use carriers at all. It isn't that they were using strollers (they weren't) or that the babies weren't being held (they were). But whenever I saw babies they were being carried on a mom's hip or sitting on a mom's lap. When I asked why no carriers, I was told that it just isn't part of their culture and that there are always enough hands around (grandmothers, aunts, friends, etc.) that when the mother needs to put the baby down to do something, someone else can hold the baby. That made a lot of sense to me within a home or community environment, but I have to admit I was tired just watching some of these moms walk along long paths or roads with a large baby on their hip supported by their arm.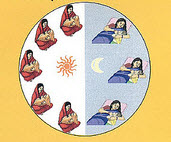 Ensure Safe Sleep, Physically and Emotionally: Cribs? What cribs? In all of the homes that we visited in Bangladesh, it was a given that the mom would sleep with the baby. In fact, most homes had only one or two rooms and the whole family slept together in one bed. Educational materials around breastfeeding always picture the mom lying in bed with the baby to nurse at night.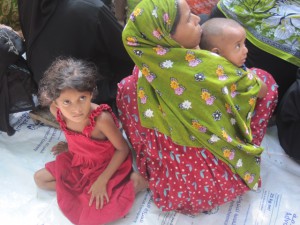 Provide Consistent and Loving Care:  In most families and in the Bangladeshi culture, it seems as though consistent and loving care is the norm. Babies are kept close and as they get older, they are given more independence and responsibility, but families remain very close with everyone living in one small space and often working together in the family business. Unfortunately, for some families, that isn't the reality. If they cannot afford to feed all of their children, they may send some of them away to work as servants (child domestic workers) in another family's home, often far away. Those children may be sent away as young as six years old, will have no regular contact with their families back in their village, and are often mistreated and abused by the families they are working for.
Overall, from what I saw in Bangladesh, the principles of attachment parenting are very much a part of their culture. They are very community-minded and the village steps in to help raise children in a nurturing environment, helping them to overcome some of the challenges to attachment parenting that are created by the isolation of the nuclear family in Western cultures. The challenges they face are due to the dire economic circumstances that sometimes prevent them from being able to parent in the way that they would like, creating a lot of heartbreak for families and having dire consequences for children.
The good news though is that the work that non-profit organizations like Save the Children are doing in Bangladesh is having exceptional results. The programs are designed in a way that fits with the local culture and that is sustainable, so that communities can take control of their own health, education and destiny.
For more information
Getting Results for Maternal and Child Health in Bangladesh Through Community Empowerment.
More on breastfeeding in Bangladesh
More on child domestic workers 
Save the Children Canada's health and nutrition programs for mothers and children
Annie has been blogging about the art and science of parenting on the PhD in Parenting Blog since May 2008. She is a social, political and consumer advocate on issues of importance to parents, women and children. She uses her blog as a platform to create awareness and to advocate for change, calling out the government, corporations, media and sometimes other bloggers for positions, policies and actions that threaten the rights and well-being of parents and their children