Having neutropenia means you lack the white blood cells necessary to fight infections. Should a patient get a fever during neutropenia, they must be admitted to the hospital to receive IV antibiotics or they are very likely to die (I do not remember the numbers exactly, but its something like a 70% mortality).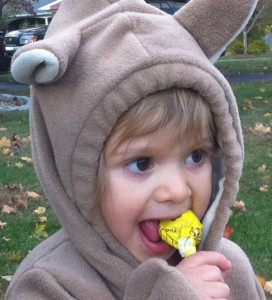 The week of Halloween 2009 I found myself a pediatric inpatient at Sloan Kettering with my first neutropenic fever. Every morning I waited for my blood counts and every morning morning I was heartbroken when the count remained zero.
On Halloween morning, when I got the news I had to remain in the hospital, I cried.
During treatment, Kaylee and I were together about 1 week for every 3 and very often, I was too ill to pick her up when we were together. When I was done with treatment, I told myself I would never be separated from my little girl again.
For Halloween of 2010, she was a kangaroo and we went trick or treating in my neighborhood. I had a little hair by that time and I was healthy enough to make it down the block and back. I was so very grateful to be with my little girl on one of my favorite holidays.
During the next year, I was on a quest of healing, both physically and emotionally. This led me to get training at the Marianne Wells Yoga School and become dedicated to yoga and meditation.  Through this practice, I was able to heal from much of the traumas of the past and experience life beyond the fear that is a staple of many survivors' lives.
And before I knew it, Halloween 2011 was approaching. At that time, I decided to deepen my practice and signed up for a weekend training in California.
I had left treatment promising never to leave Kaylee and now I was about to volunteer to go away.
And so, I spent Halloween weekend in Santa Monica, CA and Kaylee spent it at home, with her father.
Fast forward to this year. I spent many weekends away at trainings to expand my practice. Every time I went away, it was so difficult to leave her and every time I came back, I was more calm and had more tools to resist reaction and respond with Love.
On October 18th I went to Mexico for more training. Although I was grateful she had such a loving and close relationship with her father and grandparents, who would be with her, it meant being separated from Kaylee for almost two weeks (trainings two weekends in a row, the first in Mexico and the second in LA). When I had signed up for the trainings, I had expected to bring her with me. Unfortunately, every plan and backup plan I had to make that happen fell through.
I arrived in LA on October 22nd. I was missing Kaylee terribly and knew it would be another week before I saw her again.
I knew in my logical mind that she was with people she loved and that she was okay. That the time we spent apart when I was ill allowed her to create very close relationships to other adults that were a safe home when I was away. That she was with people she loved. That the people she was with loved her very much. That bringing her to a weekend of long days of training would not be in her best interests.
I knew my feelings were more about my own personal desires than serving her, so I decided to let go of them.
But, I couldn't.
She was on my mind. Everything I saw reminded me of her.
I met a little girl her age going to Disneyland. She was so excited.
"Next time." I said to myself repeatedly, ignoring the pit in my stomach.
But then, as I meditated the next morning, everything in my heart told me "go get Kaylee."
The message was so loud, I jumped up and went to LAX.
I hopped on the next flight home to go get my little girl.
I had no idea who would watch her or where we would stay. I just had hope that with a message so strong, everything would work out.
I booked our return flight for November 3rd (several days later than my original plan to return home on October 29), giving us enough time to go to Disney after training completed. It seemed like a nice way to balance out the long training days and plane rides.
I was like a little girl on Christmas morning.
We would not only be together for Halloween this year, but she would be able to come along with me to California.
And, we'd get to go to Disney!
I was super excited for the trip. There was no doubt in my mind that bringing her to LA was what I needed to do. I was grateful to have had the faith to listen to my intuition despite its impractical nature.
And suddenly, something unexpected then happened…
Two days into our trip there was news of a hurricane.
I hadn't thought much about it. But then, as time went on, the nature of the storm worsened.
It was clear that bringing Kaylee to California was beyond anything I could have imagined. Had I followed the original plan, I would have been trapped in LA with my little girl in Sandy's path.
The amount of gratitude for this experience is without words.
Even with all the separation we had experienced in her early years, my connection to Kaylee is incredibly strong. Its proven to be infinitely intelligent.
All mothers have this connection to their children. We're wired that way. When our parenting is inline with our hearts, we keep the line clear so the important messages can be heard. Listen to it with Love. Accept it with Faith. And act on it with Hope. Because deep inside holds all we need to meet our children's needs.