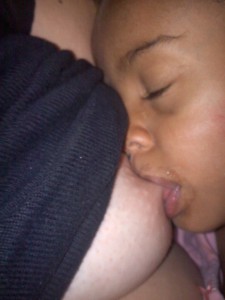 In the attachment world, we hear a lot about the importance of breastfeeding. And lots of women breastfeed for an extended period of time.
In our culture, more than a year is considered extended breastfeeding. So that's what we call it.
I just considered it breastfeeding. I was nursed until I was 3. My mother was a La Leche League leader when I was child, so I grew up understanding the importance of breast milk and hearing the "breast is best" message all my life.
What I never heard was that extended breastfeeding is hard.
Lest you get the wrong idea, I don't regret doing it. I nursed my daughter for four years. She weaned in May on her fourth birthday. To be honest, it was my idea. I have no doubt in my mind that if it had been up to her, she would still be nursing at least once a day still.
But I was done. And for all intents and purposes, so was she. She just needed a little tiny bit of encouragement and I needed to set the boundary.
Here is a slightly edited version of the post I wrote right after we weaned. I feel it is an important one to share. Because even though I always knew I would breastfeed my child long before she was even born; and even though I never had any supply issues or trouble with latching, there were things about it that were hard. It was hard on my back. Hard on my breasts. And hard on my psyche. And it was totally worth it.
Here is the post written in May of 2012:
We are done. Finally. After four years, exactly four years. My daughter is done nursing.
We made a deal a few months ago that on her fourth birthday she would be done nursing.
It still trips me out that we nursed this long. Even for me, a kid who was nursed for at least three years, the idea of nursing a child for four years seems long to me.
Most of my attachment parenting mama friends weaned in between 2 and 3 or a little longer. But even in my circle of mama friends who nurse their babes way, way longer than the average American nursing mom, I am still an anomaly.
And, in case someone takes it the wrong way, I'm not bragging. It's the opposite. It feels weird to think that I actually nursed my child this long, even though women around the world do it all the time and many cultures don't think anything of it.
The truth is, I didn't love nursing. When my daughter reached 18 months, I remember having thoughts of weaning. I was tired. But I knew that it couldn't be done without lots of drama. I couldn't traumatize her. This was one of those instances where some advice from another mom friend echoed in my head that said something to the effect of, "I have to remember who the adult is in this relationship."
So the adult part of my brain pushed aside the cranky, selfish teenager and said, "You know she is not ready to wean."
So we plugged away.
I fought it. I reveled in it. I loved it. There were moments when it was the only way I could make it through the day with sanity. And there were moments when I hated it because if I had to sit down one more time while I was in the middle of something else, I was going to scream. But then there were the moments when I was so happy that all I had to do was pop my boob out and five minutes later, heavenly sleep had descended upon my child.
And in the end, I was finally resigned to the idea that I was going to be a mom who nursed her kid way longer than most people. And I'm okay with it. I have a long, cozy relationship with being the odd woman out. It's all good.
But we're done. And I don't really know what to say about it except that we're done.
For the first week, there was a tiny part of me that whispered, "Keep going. You can do it. She'll quit eventually on her own."
That's what I really wanted. But when she was an infant, which seems so very long ago, I imagined that would be sometime around the age of 2 or 3.
As time went on, I began to imagine that it would be around 3.
That birthday came and went without any signs of letting up. But for my own sanity, I had to set some limits.
She's told me how much she loves mama milk. It tastes like ice cream, like strawberries. It's so good, and right before she weaned, she'd been saying she wanted to nurse "forever and ever." But she also wants to marry one of her female friends (which would be totally fine with me) and sleep at her school on the playground at night after everyone has gone home. She has no real concept of "forever and ever."
It's been almost two weeks since we nursed. She asked me last night if she could nurse and even begged a little. I stood firm. And for the first time since we began nursing, it felt like a solid boundary and not an arbitrary no. She didn't like it, but she also didn't get overly upset. It was almost like she was testing me.
So, it's done. We are finally weaned. I don't feel super emotional. I don't think I'm hormonal. I've always heard of women who get super weepy and sad when they wean their kids. That didn't happen to me.
I needed to just let Annika nurse as long as she really needed it. We made it. I made it. And in looking back, I'm super proud of myself for just letting it be for so long.