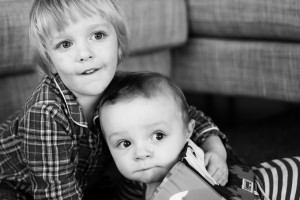 "My eldest daughter stalks the younger one, trips her up, hits her, bites her, takes her toys, scratches and pushes her. Yesterday she put a pillow on her sister's face and every time I jump to intervene, she tries to be nasty on a daily basis. Only my intervention or having them separately will prevent actual injuries," my friend complained to me recently. Her daughters are two and one years old.
I, myself, have two boys under three, and scratching, biting, hitting and spitting are part of our daily routine at the moment. At times it gets so bad that I can't even turn away my head; leaving the room was simply life-threatening for the baby.
Whose Fault Is It?
I wondered if we as parents could do something to stop the rivalry or even if it is our fault that our kids don't feel loved enough. May be it is our behavior that sets the jealousy off and promotes rivalry among our children?
"No, absolutely not! Parents take too much on," assured me Dr. Jane Nelsen, the founder of the Positive Discipline program, when I phoned her up. "You can't control a child's perceptions or what a child decides or what a child believes because two children can see the same event and make different decisions. So, that's why we can't take all the credit or blame."
Parents can't stop the rivalry from happening but they can do a lot to minimize its impact. "First of all when parents agree on how to parent, that creates an atmosphere of cooperation and energy. And when parents have opposite opinions, which they most of the time have, that increases the rivalry."
Jane came up with a great example on how to handle rivalry in toddlers. At first I found it somewhat counterintuitive. "Let's say a toddler takes a toy away from his younger sibling – what do most mothers do?"
"Well, they punish the older one, the aggressor," I mumble, puzzled about what would be wrong with that approach.
"Exactly. So what you are doing when you swoop in and protect the younger and punish the older child? You are increasing sibling rivalry because you are doing bully-victim training. You are teaching the older one to be a bully by punishing him. So then he learns – oh I can punish someone who's smaller than me and they are training the younger one to be a victim. That smart little guy or girl is going to learn so quickly: Oh the way to feel special around here, all I need to do is to annoy the older one so that mummy and daddy won't see it and so they will always think it's the others fault."
Dr. Nelsen continued, "what helps a lot in improving behavior is when the older sees that they are both treated the same. It's hard to do, I'm not saying it's easy to do but it's so important to do if we possibly can."
The Importance of Siblings Rivalry
"I think that sibling rivalry is important," Dr. Nelsen continues. "I don't think we should try to eliminate all of it. But I think it is detrimental if parents are always jumping in and taking sides. Then it has long lasting negative effect on children's' relationship. If a parent intervenes to take the side of one and not the other, then that's not a good socialization. But if they say, 'I'll take this toy until you guys can figure out a way to share or you can go to separate areas until you are ready to try it again,' that's great socialization."
To finish our conversation, Jane gave me a great rule of thumb for the toddler years and beyond.
"Treat your kids the same. It is like you talk to both of them even if the youngest one can't understand. They understand the energy. They understand the actions, even if they don't understand the words".