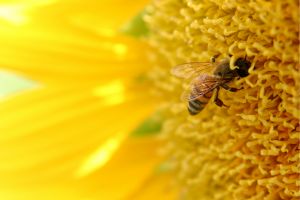 I do most of the correspondence for my work over the phone or e-mail or in ways that don't require a peek inside my home. It's not just the baskets of clean laundry stacked in my living room the past week or the pile of dirty dishes on my countertop or my chronically unmade bed that makes me unsure about using Skype and other webcam services. It's the whole juggling act of working and parenting.
The other day, I was attending a webinar – thankfully not one with video-conferencing capabilities – on honey bee colony losses for an article commissioned by a local magazine. It's a good thing most webinars are recorded, and if they're not, their information can usually be double-checked on a website somewhere or at least by giving the speaker on the webinar a quick phone call.
So, I'm trying to write down various quotes and all the pertinent information on these beekeeping management surveys. A lot of research, something that requires quite a bit of attention. And I notice that the baby needs a diaper change.
The webinar is playing on my laptop, on my bed. The bed's not made, so there's only the thin fitted sheet between baby's bum and my pillow-top mattress. I check out the situation and figure it won't take me long to change his diaper, but in the middle of the said change, something comes on the webinar that catches my attention and I drop what I'm doing to hurriedly catch up my notes.
Somewhere in all this, my five-year-old and four-year-old burst into my room arguing about how each wanted to draw on this same piece of paper (we have a whole box of paper!), and one of the cats jumps up onto the laptop's keyboard, muting the webinar. And I'm squinting my eyes at the laptop screen trying to concentrate all my energy into copying down the words that the man on the computer is saying without taking the time to process what that means in the scope of the story. No time for thinking – at that moment, I was a photocopier memorizing the words coming through my ears and the images coming through my eyes and using my fingers to put them on paper. I don't have a true photographic memory, but I'm pretty darn close, which is very helpful in overwhelming moments.
I don't know how many minutes pass, but somehow I do manage to get everything I need down on paper, including intact quotes, and I'm able to mediate my daughters' quarrel without hurrying through it. I hear a noise, one that usually indicates a diaper change is needed and I think, Thank goodness I got a diaper on him. Except I don't.  And now I need to do a load of laundry, by far my least favorite activity in the realm of housework.
This is an everyday occurrence. Maybe not the same events, but certainly the amount of distractions. Work, kids, kids, cat, other cat, mail, phone call, work, kids, mail is here, I'm hungry, work, kids, kids, need a nap, kids, work, kids, need a break…get a break, whew!…and repeat. Working from home while being a stay-at-home parent is a lifestyle choice, that's for sure. This may sound like chaos, but it's the only way I know to work and work well. I need that little bit of chaos to give my brain the motivation to hyper-organize to be able to be as productive as I am. For me, the fuller my life is, the happier I am. Although I do wish there was a way for me to avoid having to do laundry…
This post is part of the Delicate Balance series, which chronicles the juggling act of work-at-home attachment parent Rita Brhel.