A story about standing in line at CVS, baby fingertip kisses, stranger germ phobia, infertility, and magic you can share with a stranger.
Totin'
I was just at CVS and an older man was behind me in line.  I stopped to get some chocolate, specifically, Bliss chocolate Easter eggs. 
"Do you want to go ahead of me?" I asked.                  
"No, I'm in no huree.  I ain't been in no hurree since I retired," he purred out in a deep Southern drawl.
"Oh, alright. It's nice not to be to be in a hurry," I said back to him with a soft smile, warmed by the thought, I, too, am not in a hurry and have not been since I decided to stay home with Ben.
"Sure is. I just feel real old, since I turned 80."
"Well, turning 80 is quite a something to be proud of, Sir."
"I turned 81 last year, in fact."
"If it makes ya feel any better, I feel old ever since I had a baby."
I studied his red wrists and purple lined palms.  His old age reminded me of my father, long gone, up on the roof of Heaven.
"Hello there little guy," he chuckled, as he grinned and held out his finger.  I tried not to cringe thinking of other mom friends who wear plastic circle signs on their purses that say, "Are your hands clean?" and 'Love, Not Germs."  I could see the dirt under his yellowed finger nails, dewed with time and wrinkles, invisible like earthquakes holding decades of history.  Those fingers are alright, I thought. I'll let Ben decide if he wants to touch him.  Ben smiled some more, showing all eight teeth and reached out with his ET pointer finger and fingertip kissed the old man's yellowed, storied, wrinkled, finger.
It was kind of magical — in the moment's lack of worry and judgment.  Old and new, youth and wisdom, fresh unwrinkled skin and leathered, layered skin.

"I had me a cousin who married a lady who couldn't have kids, until one day she done did.  She toted that baby around just like you.  My cousin had to do all the cookin', cleanin', takin' care of the house.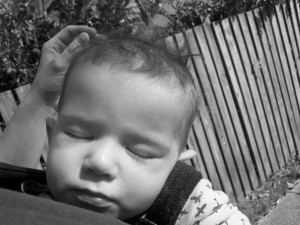 She just toted that baby around like you is doing.  Din't do nuthin', but tote that baby aroun."
I wondered what his background was.  How did his fingers get so storied?  Would he be a good person to interview? What secrets does he have the key for?  Did he have any idea how hard his own wife worked with their kids?  How hard did he work with his kids?  These questions of parenthood I think about often.  Did he know she may have suffered in silence?  Or did she tell him while they laid in bed how difficult it was to be a mom?  Did he share with her his same thoughts and feelings about being a father?  Or was it something people, partners, parents, didn't talk about back then? Was his wife bored out of her skull at times playing patty cake?  Did she wonder what career she might a had, if she did in fact, have one at all?  The way he talked, he seemed like he was from a family where the women did "women's work."  But I couldn't really know, because we only shared a few sentences. 
I gazed into his light blue eyes, peppered with kindness, salted with age.  Other spices in his freckles and liver spots: concern, calm, depth. He had a prescription in his hand, in a white crinkly bag, with long layered texts, flapping, stapled loosely to the bag.
"My mama just took us two kids out in the field and let us run around while she cooked, cleaned and took up the laundry."
I wanted to tell him about my own infertility and how I could relate, but the next customer pushed off and out of line, as if leaving the boat dock.
La'tesha, with her big gold hoop earrings and short shaved head, with layers of black hair tapered down, said, "Do you have a CVS card?"
"Yes ma'am, I do. Here it is," I said as I fumbled with my bags of half price Hershey's Bliss Easter chocolate eggs, juggling Ben, my purse, and my card.  I laid it on the table, balancing Ben and his eleven month old long legs under my arms.  He was seated in my arms, as if a puppet on a chair.  My body a baby carrier; my arms acting as ERGO straps.
I wanted to tell that man how I understood how his cousin's wife did not let go of her youngin' and toted him around.  She wanted to hold onto that magic, that miracle.  That lovely pasture God let her in, Nature let her in, Luck let her in, Science let her in.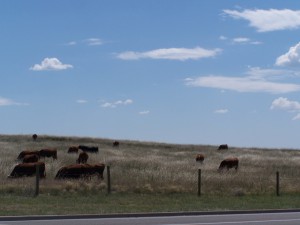 She was on the outside for so long; she never wanted to feel that longing again. That tap tap tapping at the big floor to heart ceiling windows.  Now complete, a locket no one can see – infertility changes you.  It's a plus sign in a long algebra equation, others might have a minus, something to subtract out.  Us infertiles gone fertile, we do the math, we hold the numbers.  We graze in that pasture and hold onto it much longer.  That's what I wanted to say.
"Have a nice day and enjoy your retirement."
I thought about how I don't want Ben to grow anymore or how I am kinda sad he is turning one soon because the time has gone by so quick, so thick, and this might be my one shot.  My one bull in the pasture.  I'm ok with it if it is. 
I unstrapped Ben out of his car seat when we got home, his soft curls wet with sweat from the early April heat.  The humidity in the air from the coming storm.  His head so wobbly from sleep, his head automatic on my shoulder as I lifted him up.  I love toting him around because I carry this huge section of my heart outside myself.  It resting against my own, invisible magnetics mending us together. 
I had a broken heart for a long time when I was without Ben.  He came to me from the Heavens, from the stars.  Transported from somewhere far away and magical.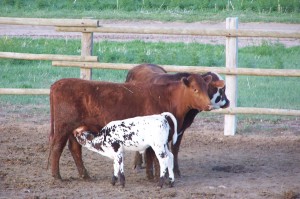 I go to the pasture to graze whenever I get the chance.
I wanted to say, "I bet she doesn't tote him around now."  Then I thought of holding Ben in my arms, with his long legs angled over my arms at sixteen.  Funny. I looked both ways in the parking lot and then I saw that man again.  Walking to his car, slow and steady, like a bull in a pasture.  I drove home.